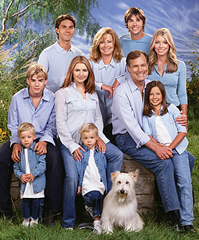 The family series 7th Heaven ended after an incredible 243 episodes and 11 seasons on the air.
Many original castmembers like Barry Watson, Jessica Biel, and David Gallagher had left the show by the time the series came to a close in May 2007. Because of the timing of the episode, the whole family wasn't able to be reunited one last time.
Now that the series is over, what about a reunion?
---
To: CBS Paramount Network Television and Spelling Television
We, the undersigned, have enjoyed the many episodes of 7th Heaven and love watching the Camden family. With the series having ended, we miss seeing them week after week in new stories. Please consider reuniting the cast for a TV movie or even a holiday special. With millions of faithful 7th Heaven viewers and a great need for new family programming, how could it not be successful?
Thank you for your consideration.

Country: USA
2020-11-10 19:08:38
Bring back 7th Heaven! We need our younger generation seeing positivity rather than the craziness that's on the tv shows now.
Country: usa
2020-07-12 03:52:15
7th heaven reboot
Country: United States
2020-05-15 22:41:50
This show helped me so much growing up, because I too was the daughter of a minister. I always felt like a member of the Camden family! Please reunite them!
Country: united states
2020-04-30 14:01:35
Love this show,needs to come back
Country: Usa indiana
2019-10-19 07:46:10
Miss 7th heaven i watch it now and even watched it as a lil girl i love the show i just got done watching it and i wish i would come back please i dont like how it ended i do but wish there was more
Country: USA
2019-09-05 09:48:02
Even though I wasn't alive during 7 th heaven, I love watching it with my mom. This could be my chance to be alive during 7th heaven. I wold like to see all the Camden's again.
Country: USA
2019-03-30 01:32:54
Bring 7th heaven back to Netflix I want my show back please put 7th heaven back on Netflix it's a life changing show
Country: Roanoke. Virginia
2018-02-23 14:14:44
Our family Loved 7 heaven. My. Husband. And. I. Raised. Our children. The. Way Your. Show. Was. On. TV. Camden's Children. Our. Children. To. Turned Out great. And. They're. The. Best. Children. Any. Parents. Could. Ever Want our. Children. Love Life. ,. All. Graduated from high school and college They're. Great. Parents. With. Good Careers. Thank you. Miss. Your. Your. Program. I. Hope. There's a. New One. Reunion. God bless all of you Rosalie. Horton
Country: Usa
2018-02-21 16:49:09
Love the show.
Country: Usa
2017-10-02 23:52:00
Yes do it
Country: USA
2017-08-27 21:34:39
We need to bring back 7th Heaven to cable tv for good no matter what!
Country: USA
2017-07-19 16:17:00
Bring back 7th Heaven. Description: The Rev. Lucy Camden-Kinkirk and Kevin Kinkirk raising their children. Everyone else could guest star. Something similar seems to be working for Full House/ Fuller House. Let's make it work for 7th Heaven too.
Country: usa
2017-07-04 09:26:30
yes would love to see whole gang back together.
Country: UK
2017-06-20 05:38:42
I would love to see the continuation of the story.
Country: United states
2017-03-26 20:44:48
Please have a 7th heaven reunion. ...i love the show so much i enjoy watching it on amazon prime
Country: US
2017-01-11 23:19:05
Loved the show when 1st on & since I found on Hulu! What a treat! Loved these characters & wholesome stories! Let's get them together again! Please!!!
Country: United States
2017-01-11 03:52:24
This show really made my childhood great, and now that I'm older and rewatching this series, I'm understanding all the fantastic messages this show has in it. It's really made me reconsider who I am as a person and it's given me a few good laughs and a few good cries. I would be over the moon with excitement if this show made a comeback with all the old cast members and even a few new ones.
Country: United States
2016-11-08 18:20:27
Yes Please bring the camdens back and kevin and lucy and savannah
Country: USA
2016-10-14 20:27:17
Please consider a reunion or reboot!! Maybe it could be shown on the Up channel! Rev Camden's heart finally gives out & he passes away. The entire family unites for his funeral. Along w/ his will he leaves behind 3 letters to the 3 victims he assaulted when he was in his youth (16 or 17 yrs old). His actions soon haunt him & he turns to God, turns his life around & goes to college to be a minister, meets & marries Annie & devotes the rest of his life to doing good. In the meantime, Annie NEVER knew any of this & has to come to grips w/ it, along w/ his children. This could be a good beginning & way to explain everyone coming back together. It can go on from there....
Country: united states
2016-08-25 13:30:54
Please do a reunion show
Country: USA
2016-06-08 02:32:23
Please reunite them.
Country: United States
2016-05-04 13:51:12
Bring back 7th Heaven
Country: United States of Ameria
2016-04-24 08:43:35
7th Heaven is and will always be my favorite tv show. When I watch it, I always feel as if I am part of the family. I always enjoy the plot of every episode and how the problems in the episode get resolved in the end.
Country: usa
2016-04-14 22:42:16
Please bring the show back the way u ended left everyone in suspense we (my family and I) would love 2 see it back on thanks
Country: usa
2016-04-13 12:21:36
Please bring a reunion show of 7th heaven I loved the show