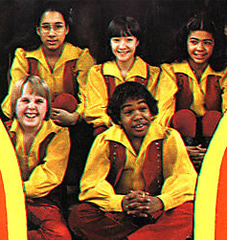 The Corporation for Public Broadcasting is working with PBS stations and community organizations nationwide to create a cross-platform reading program (on-air and on the net). The initiative targets low-income children and is part of the Ready to Learn project which is funded by the Department of Education. One of the new series in this effort is actually an old favorite — The Electric Company.
The original Electric Company ran on PBS for 780 episodes from 1971 to 1977. It featured such diverse talent as Bill Cosby, Lee Chamberlin, Judy Graubart, Skip Hinnant, Morgan Freeman, Rita Moreno, and Spider-Man. The series mixed animation with skits and songs to help primary school kids develop their reading skills. The series was produced by Children's Television Workshop (now Sesame Workshop) and was envisioned as a natural progression from CTW's landmark series Sesame Street.
The new version of The Electric Company is still under development but PBS describes the new version this way: "The all new Electric Company will reinvent the popular show for today's 6-9 year olds as a multi-screen and outreach educational experience!" The new series is scheduled to debut in Fall of 2008. Stay tuned!