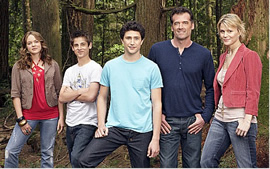 Up until last year, Kyle XY was ABC Family's most successful series. The ratings were so good that the network ordered over twice as many episodes for season two and ABC Family's president said, "Kyle XY is the highest-rated show ever on ABC Family; it is truly the show that has defined this network."
Unfortunately, the ratings declined after that and Kyle XY has been cancelled after three seasons. Because of the timing, the show's many ongoing storylines won't be properly concluded. Are you ready to say goodbye to Kyle, Jessi, and the Tragers? At the very least, shouldn't the story be given a real ending?
If you'd like to see Kyle XY continue, there are a few things you can do:

Tell your friends and family members to tune in and watch on ABC Family. If that's not possible, encourage them to watch online. Maybe one of them is secretly a "Nielsen family" or knows one.
Write to ABC Family. Let the network know how you feel but, keep it civil. Everyone responds best to courtesy.
Sign the petition below and let the network execs know you've signed it. Spread the word and ask others to do the same. But do it quickly, Kyle's biggest struggle for survival has just begun.
---
To: ABC Studios, Benderspink, and ABC Family
We, the undersigned, have truly enjoyed watching the Kyle XY TV show on ABC Family. The series is a wonderfully entertaining show that the whole family can enjoy — filled with drama, mystery, and even a touch of humor.
Kyle XY is a great show and has performed very well for the network. We have faithfully tuned in each week and are very upset to learn that it has been cancelled. We have been very loyal to you, why not show some of that loyalty to us?
Please reconsider your plans and continue to keep producing and airing this inventive show, if not on ABC Family then on another Disney-ABC network. At the very least, please film a conclusion so we know how Kyle's story ends.
Thank you for your consideration.
60378 Entries - 2416 Pages
Country: Cuba
2021-02-28 08:20:51
Por davor que regrese Kyle XY
Country: Philippines
2021-01-30 17:13:37
Make a proper ending, at least. Season 3 was just getting interesting.
Country: United States
2021-01-26 20:46:31
This show is really great its got everything you want in a show. Comedy drama humor i really think it deserves an ending at the very least. Thank you.
Country: Poland
2020-12-27 17:19:41
great show
Country: U.S.A
2020-12-21 23:01:28
I can't get enough of this show and they need to bring it back
Country: Myanmar
2020-12-05 12:07:13
I want to have a new season if possible.
Country: India
2020-11-08 11:44:06
ABC FAMILY WOULD U PLEASE CONTINUE THE KYLE XY SERIES I'VE BEEN MISSING THE SERIES SO BADLY
Country: Tanzania
2020-10-30 11:04:12
I like to see Kyle XY continue s4
Country: Philippines
2020-10-17 21:43:15
Please fuckin do a real ending for KYLE XY, i really like that series and i won't let to stop that series without a good ending.. please
Country: Norway
2020-10-02 02:18:10
I think its time for a renewal soon
Country: NIGERIA.
2020-09-23 08:40:08
You cant do this, please. Please bring back the show in whatever way you can, Thanks in positive anticipation
Country: Croatia
2020-09-22 18:23:35
Want to see the end, you cant do this to people.One of the best series I have watched.
Country: Philippines
2020-09-18 07:25:42
I love this show. Please bring it back.
Country: Brazil
2020-08-23 14:33:29
I don't how, but Please bring it back!!
Country: Canada
2020-08-11 02:20:49
Please bring it back
Country: España
2020-08-03 19:38:37
Please have the show Kyle XY be continue
Country: Philippines
2020-07-29 11:39:39
Please have the show Kyle XY be continue.
Country: United States
2020-07-24 01:49:11
pleas bring this show back
Country: México
2020-06-21 14:54:24
I love it, please bringing back. Greetings from México
Country: usa
2020-05-29 20:50:28
please allow me to know how it all ends
Country: Russia
2020-05-19 23:18:28
Kyle XY is an amazing TV show and i would love to see it back on air, it ended in a huge cliffhanger. Please bring it back . its 2020 and we still wait for it, shows how amazing this series was and will always be.
Country: usa
2020-05-06 22:51:45
pkease reeboot
Country: Madagascar
2020-04-17 13:39:31
Please continue kyk xy and end it well. It was very nice i got addicted
Country: United States
2020-02-23 08:27:29
It's a shame to end such a great TV series as Kyle XY that speaks to morals of everyday living and family values and also a shame that the producers would leave us with such a big cliffhanger at the end of season 3 without giving it a proper ending. Just because the cast are older, in the fantasy world of Kyle XY, there's always a way to bring them back even though it's years later, for example, the season 4 opening begins with Kyle's narration explaining how that it has been 13 years since he and his family and friends associated with him were all kidnapped and placed in cryogenics as the company continues their experiments however, as Kyle explains in the narration of the opening segment of season 4 episode 1, he explains how it has been 13 years since he and his family and friends were kidnapped and placed in cryogenics but unknowingly without any warning to the staff of the company that kidnap them, there was a malfunction in the cryogenics that didn't prevent their aging during their sleep and because of the malfunction all systems registered normal but later he outlines in his narration about the explosion of the facilities that destroyed I'll research and all life except those protected in the cryogenics Chambers which was Kyle Jessie and the rest of the family. And then the show continues showing a Fire after the explosion with the timers of the computers breaking down and them all waking from their cryogenic sleep as they emerge out of the cryogenic chambers, so they're all waking up to a fire wondering how they got there and what's going on but choking and gagging they all find their way out of the facilities and find their way into the woods. So the story continues after Kyle's narration as they try to figure out how they got to where they were and why they are all older as they continue on their way to try to resume their lives 13 years later. So my point is that even though it's years later and the cast are now older there is a way to reboot season 4 and continue the story line if the original cast and producers are willing to continue the story of Kyle XY.
Country: España
2019-11-20 02:16:49
Que regrese la serie a la tv