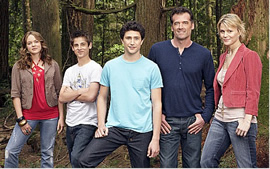 Up until last year, Kyle XY was ABC Family's most successful series. The ratings were so good that the network ordered over twice as many episodes for season two and ABC Family's president said, "Kyle XY is the highest-rated show ever on ABC Family; it is truly the show that has defined this network."
Unfortunately, the ratings declined after that and Kyle XY has been cancelled after three seasons. Because of the timing, the show's many ongoing storylines won't be properly concluded. Are you ready to say goodbye to Kyle, Jessi, and the Tragers? At the very least, shouldn't the story be given a real ending?
If you'd like to see Kyle XY continue, there are a few things you can do:

Tell your friends and family members to tune in and watch on ABC Family. If that's not possible, encourage them to watch online. Maybe one of them is secretly a "Nielsen family" or knows one.
Write to ABC Family. Let the network know how you feel but, keep it civil. Everyone responds best to courtesy.
Sign the petition below and let the network execs know you've signed it. Spread the word and ask others to do the same. But do it quickly, Kyle's biggest struggle for survival has just begun.
---
To: ABC Studios, Benderspink, and ABC Family
We, the undersigned, have truly enjoyed watching the Kyle XY TV show on ABC Family. The series is a wonderfully entertaining show that the whole family can enjoy — filled with drama, mystery, and even a touch of humor.
Kyle XY is a great show and has performed very well for the network. We have faithfully tuned in each week and are very upset to learn that it has been cancelled. We have been very loyal to you, why not show some of that loyalty to us?
Please reconsider your plans and continue to keep producing and airing this inventive show, if not on ABC Family then on another Disney-ABC network. At the very least, please film a conclusion so we know how Kyle's story ends.
Thank you for your consideration.
60348 Entries - 2414 Pages
Country: Zimbabwe
2019-03-28 20:56:31
can you please continue the TV series kyle xy in any way it had a miserable ending or by introducing any characters to represent to continue it
Country: Zimbabwe
2019-03-28 20:53:47
can you please continue the TV series kyle xy in any way it had a miserable ending
Country: nigeria
2019-03-27 15:12:30
can we just know the ending of this movie .. ..please I. tried of crying .. why now , when the movie just hot better .. the fight between Kyle's 2 girlfriend..damn I want that part please
Country: Canada
2019-03-04 21:21:45
Bring back Kyle xy
Country: United States
2019-01-15 12:52:14
this show was a benchmark in my adolescence as a scientifically minded person this show piqued my interest on a level that still exists 5 years later. Please resurrect this series, maybe just for a season to tie up some loose ends!
Country: US
2018-08-31 01:27:18
Please, bring back this amazing series! My heart always breaks when I end season 2 because I know there is no real conclusion to season 3; we're just left with huge cliffhangers. I've been binge watching this series for 5 years now, and I really wish we could all, finally, get some closure.
Country: Los Angeles CA.
2018-08-22 20:11:59
reboot kyle xy series or movies great show needs to be back on the air.
Country: Kenya
2018-03-18 15:03:26
Kyle xy is a brilliant mind series, i thnk it should continue and end in an orderly way,and no suspence,we want to see it on air
Country: Germany
2017-10-29 22:36:47
Pls make a season with an END!
Country: USA
2017-09-16 15:45:41
The story and characters on this series are very engaging and controversial. In other words Very Interesting. Please make it so that we the fans can continue to enjoy this great show. Ruben Hutnik
Country: USA
2017-08-03 15:11:07
Please have one last episode or movie for an conclusion for Kyle XY! I watch it on Hulu Plus. I am tried of watching a great series and it just ends by keeping you hanging. It isn't fair to the viewers, actors, or actresses. They all did a great job! It would be great if a network could respect the viewers, actors, and actresses of a interested series. If the network sees that a series is falling in ratings have enough respect to have an ending knowing that more then likely it will be canceled. At least,there is a nice closure for the series!
Country: Ukraine
2017-07-20 17:36:52
Верните мой любимый сериал!
Country: United States of America
2017-07-14 04:35:55
I just re-binged watched the show and I forgot that it ends on pretty much a cliffhanger! With no true finish! Please finish it or continue it!
Country: Maryland DC U.S.A
2017-07-02 20:34:51
I'm one of the thousands of people we want more Kyle xy is the greatest series but that can not be the end please 4 season continue
Country: Italy
2017-06-27 15:28:16
PLEASE, ME AND MY FAMILY WERE WATCHING IT TOGETHER IT'S SO BEAUTIFUL, END IT
Country: South Africa
2017-05-18 05:40:48
this is one of the best drama series I and my family ever watched. please consider bringing it back to our screens. thank you
Country: Italy
2017-04-23 06:43:21
We want final season for KYLE XY
Country: Spain
2017-04-11 17:06:36
Kyle ky should continue
Country: Italy
2017-04-09 18:02:16
This show needs a conclusion!!!
Country: France
2017-04-03 15:25:44
Please!!
Country: China China
2017-04-02 11:28:51
Pleass kill our appetite and finish this
Country: Russia
2017-03-12 11:37:35
I need it
Country:
2017-01-08 07:04:08
Bring kyle xy back either by reboot or original cast
Country: Russia
2016-12-25 03:48:50
We need to this serial
Country: Warsaw
2016-12-19 15:30:03
We ask you to take on this good serial this serial gave me the intrigue and this serial eerily interesting.