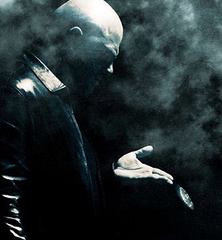 After seven seasons and 88 episodes, The Shield TV show has come to an end. Did Vic Mackey (Michael Chiklis) get his just desserts? The series could have ended with Vic's death, him going on the run, going to jail, or getting away with it all. In the end, the vigilante was separated from his posse, abandoned by his family, and sentenced to three years in his own personal hell.
Should this be the end of this exceptional series or should it continue? There's been discussions of a Shield movie and Chiklis and creator Shawn Ryan have indicated they'd be interested in seeing where Vic's future lies. What will happen once his term with ICE is finished. Can he go back to his old ways? How will it change him? Will he ever see his family again?
If you'd like to see The Shield continue as a movie, sign the petition below and let us know what it should be about. You can also write to Ryan and the FX network here. Does Vic's story have to end?
---
To: Fox Television Studios, MiddKid Productions, Sony Pictures Television
We, the undersigned, greatly enjoy watching the FX TV show, The Shield. The series is truly unique, continually entertaining, and outstanding in many ways.
We're truly sorry to see this complex show come to an end and are not ready to say goodbye to the tough world of Vic Mackey. Please consider continuing the tale in some new way, preferably in a series of movies, either made-for-television or in theaters. This gritty story shouldn't come to an end just because the TV show chapter has concluded.
Thank you for your consideration.
Country: United States of America
2020-01-25 11:27:55
The shield was and always will be the greatest hit show ever! I strongly feel that there is a lot left to uncover here. The story line never ended at the final episode leaving room for them to bring it back. To be honest if I may, should they bring the tv show back as well as making a movie out of it, I would be more than happy to be apart in making it all happen. Whether I get a part in set or even assisting in writing the contueum for the plot would make me very happy.
Country: Usa
2019-12-16 22:27:42
Please bring back it is my flavor show ever!
Country: United States
2019-08-29 14:10:30
Please bring this fantastic series back I watch everything like this and nothing comes close to the quality of this series. If this came out of British TV it never ever would have been canceled, they don't treat their fans like this and their entertainment is on such a higher level I know I watch very little if not none of American TV. To bad this country doesn't get quality entertainment and stick with it when they do. Check subscriptions to British entertainment proof in pudding!!
Country: United States
2019-05-17 19:39:08
Bring back this show and clean now Capt Mackey up, making him a clean cop but using underhanded tactics to put way bad guys!! Have mayor Acevado keeping a watchful eye on him along with chief Wyms and Lt Wagenbach. Create a new strike team and see where it goes from there with Mackey being a now clean cop with a past!
Country: New Zealand
2019-02-13 11:20:02
I've just watched all 7 seasons and I think you guys need to make a movie ! The finial episode left me wanting to know what happens next !!
Country: USA
2017-10-02 20:24:23
Vic goes rogue!
Country: United States of America
2017-07-18 20:53:44
BRING BACK THE SHEILD ONE OF THE BEST TV SERIES IN THE HISTORY OF TV.
Country: UK
2017-02-15 16:51:09
I need more Vic Mackey
Country: Us
2017-01-24 23:41:55
Bring the series back
Country: United States
2017-01-13 14:40:34
Pickup a series, make a movie, anything. This show was incredible!
Country: Australia
2016-10-06 23:34:42
Please make a shield movie, or a spin off series. We love the shield!
Country: USA
2016-09-01 10:59:46
I would love to see this in a Movie but would really like for the series to continue as well.
Country: Canada
2016-08-30 19:06:28
Vic wakes up from a dream?!! Are you kidding? That's a lame preschooler's copout. I say let HBO or Netflix reboot the series. Bring back the guys and girls who are available - Vic, David, Dani, Dutch, Claudette, Ronnie, and so on (no more Julian, the actor is in prison for killing his wife). Pick things up where they left off: What's Vic been up to? Is Claudette still alive? With all the gang problems and police shootings these days, a Shield reboot would be especially relevant.
Country: United States
2016-08-08 01:12:44
I would love to see The Shield be made into a movie..
Country: USA
2016-08-04 04:17:48
Like I said you could continue the story starting with lems murder Michael Chiklis he's character wakes up from a dream. Yes the whole thing from lems murder to the end was a bad dream where he loses everything the story can be Rewritten from that point forward and better explained with a different outcome. The only reason they had anything on Vic Mackey and his crew was because he admitted everything to ice if he didnt do that they have nothing.
Country: USA
2016-08-04 04:08:14
We could have it like Knox Landing were Michael Chiklis character Vic Mackey awakens from a dream right after his partner lem is murdered. And we rewrite it differently from their forward differently longer more explained that before the damn writer strike.
Country: US
2016-07-19 02:12:18
This was the best show on television. The blue print for many a drama since. Vic was not done and no doubt has a lot of people looking for payback. His story isn't finished.
Country: United States
2016-07-17 23:28:39
I would really love to see the show called the shield come back on television in the form of a movie or more television series because it was the best show ever. Hands down to hit tv.
Country: Uk
2016-06-25 05:12:46
It would be great to see what happened to Vic after his ice deal ended
Country: usa
2016-06-15 21:46:36
Why would a great show like this, need to end?
Country: United States of America
2016-06-13 04:20:35
My friend let me borrow The Shield season's and I was instantly addicted bc when it came out I was to busy doing highschool stuff to even think bout t.v series I just can't believe it took all these years tor this to become my fav.cop show EVER!!! 🙂 🙂 just sad bc I'm on season 7 now and just really wish there was more so I'm begging someone to make more episodes or a movie?? is what I think I read somewhere either way more Shield would be AWESOME!!! Why did it ever go away??
Country: Great Britain
2016-06-12 04:32:22
Bring it back !!!
Country: United States
2016-06-04 16:46:34
Watched the entire run and loved it! Just got it on dvd. Please bring back the Strike team. Yeah they are older and some fatter. Lol. But DAMN Shawn made up a great show with compelling characters. Please!
Country: Hungary
2016-06-02 04:28:20
Please do it
Country: England
2016-05-29 16:56:53
Return as a movie is an excellent idea