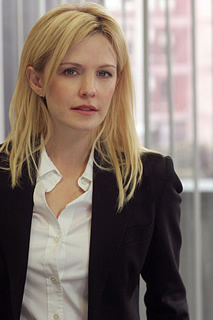 Detective Lilly Rush and the rest of the team regularly solve unsolved cases from years ago. Unfortunately, it looks like their TV show will soon be a thing of the past as well. The show was barely renewed in 2009 and the ratings have dropped since then. Unless things change pretty quickly, it looks certain that Cold Case will be cancelled.
Remember, the most important thing to CBS and the sponsors is for people to watch the show on their television, while it's being broadcast. If you like Cold Case and want to see it continue, there are a few things you can do to help keep it going.
Watch the show each week, preferably live, and encourage others to do the same. You might know a Nielsen family and not even know it.
Talk about the show with other people; at school, at work, online, or wherever. Creating a buzz about a show gets people interested and invested in watching.
Sign the petition below and encourage others to do the same.
Write to the network. Be respectful. Everyone responds better to courtesy. Tell them how much you enjoy the show, that you've signed the petition, and that you want to see it continue. You can use this form or, even better, write via snail-mail to: Ms. Nina Tassler, CBS, 7800 Beverly Blvd., Los Angeles, CA 90039, RE: Cold Case
Take note of the products that you see advertised consistently during the show. Write the advertisers and tell them that you appreciate their sponsoring the show and that you buy their products (if you do).
---
To CBS, Jerry Bruckheimer Television, Warner Bros. Television, and CBS Television Studios:
We, the undersigned, have enjoyed watching the Cold Case TV show on the CBS network. It continues to be a quality series with a unique and compelling way of telling crime stories.
Please find a way to keep Cold Case on the air. We are devoted viewers who will continue to watch the program, encourage others to do the same, and will support the series' advertisers as well. If necessary, change its night and time. Please keep it going, either on CBS or, if necessary, on one of the other CBS-affiliated channels.
Thank you for your consideration.
Country: United States
2019-12-01 15:11:15
I loved the show cast as well as plot, loved the fact it always ended with justice for a victim
Country: United States
2019-11-15 17:23:08
Cold Case is available for streaming via the Roku Channel!! All the seasons, oh Happy Day!
Country: US
2019-11-05 03:26:38
Cold Case was one of the best crime dramas ever! No non-bootleg DVD, or any release, stinks. I would love to see a made for tv movie wrap up, or something come out, come on folks, help the fans!
Country: United States
2019-10-04 19:39:05
I love Cold Case and was devastated when then cancelled the show. At the very least please release the old episodes on DVD so we can rewatch them.
Country: United States
2019-07-14 04:08:22
I bonded with my grandmother so much while watching this show after school when I was younger! Bring it back so we can enjoy it together again.
Country: United States
2019-06-02 09:11:23
Series should start again,everyone can relate to this series.very unique.
Country: US
2019-05-09 16:33:43
I'm signing the petition to bring Cold Case back.
Country: USA
2019-05-04 01:42:04
Both my husband and myself enjoyed the show. I would love for it to come back! Is there anywhere a person could watch reruns?
Country: australia
2019-04-01 18:57:42
bring back cold case please it was a great show
Country: USA
2019-02-03 22:58:12
Please bring Cold Case back ... NEW EPISODES
Country: 5327
2018-12-17 20:23:18
I enjoyed Cold Case when it was on the air. I wondered what happened to the show. I liked that the script writers would bring back the characters that were killed after solving the case to show that they were happy or pleased that their love one found out what happened to them. And the music tracks was great too.
Country: USA
2018-12-11 11:14:30
Please bring the show back. The show had a great cast and interesting episodes.
Country: US
2018-08-19 20:21:16
The show was well done with interesting scenarios and a great cast. Please bring it back.
Country: united states
2018-03-29 13:13:37
please bring the show back on very interesting program loved it never missed it
Country: USA
2017-12-09 15:14:03
Cold case was the only show that told what happened from the start. It is mine and my husbands favorite show. He has leukemia from agent orange and would love to see it before he passes on. PLEASE bring it back for a veteran.
Country: Missouri, USA
2017-11-13 22:52:33
I have just started to watch Cold Cases on Netflix and it is one of the best shows I have ever watched. Please bring this back. I would watch it all the time. It is great for these families to get closure and watch the bad guys get justice.
Country: United States
2017-11-07 01:34:24
I would love to see Cold Case again on Ion. I loved that show and the detectives. I would watch it all the time. I want to see it starting this year in 2017, and continuing on. Thank you.
Country: United States
2017-09-07 16:04:49
Please bring back Cold Case. It was the best series you had with Law and Order Criminal Intent being the second in the running. We had Cold Case watching parties and was not happy when it was taken off the air. Can't you replace it with one of the three criminal mind series? Please Please Please bring it back!!!!
Country: United States
2017-07-02 09:50:00
Please bring back Cold Case Shows to ION television!! I really enjoyed watching that show! ION TV haswore Criminal Minds in the ground!!
Country: United States
2017-03-12 21:24:00
Love this show for all that it is. I like the fact that the victim's find some closure and answers to the loss of their loved one. It's a great show. Please bring it back to television.
Country: United States
2017-03-12 20:56:30
Hello, I've been searching for reruns of the TV show "Cold Case" and I just cannot find anywhere. I Googled for reruns and I found this petition, so therefore I ask you if at all possible to air "Cold Case" again. I've heard other people wanting to see the show , they all say ,including myself that it is a great show and we all are wishing to enjoy the show again. Thank you very much.
Country: USA
2017-02-23 17:45:03
I loved this show. I made sure to come home in time to watch it. And I loved the way it played songs from the past.60's 70's or 30's 🙂 🙂
Country: U.S.A.
2017-02-10 15:38:21
Please bring back Lily and her crew. They bring a refreshing change to the multitude of crime shows.
Country: United States
2017-01-05 13:13:20
My only favorite show on ion beside criminal minds.. Please bring back!!!
Country: USA
2016-12-28 19:55:42
This was one of the best shows ever. I loved how it went back to the time of the case. PLEASE PLEASE bring this show back, I really miss it!!!