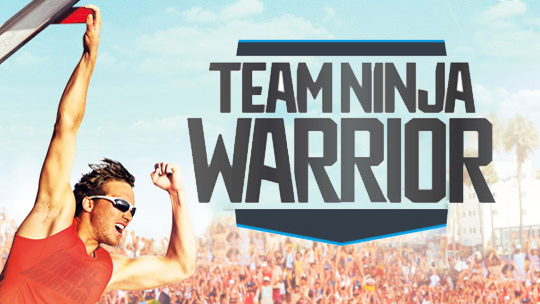 Team Ninja Warrior is making a big move. This week, it was announced that season two of the Esquire series will premiere on USA Network in April.
Earlier, we reported Esquire Network is transitioning into a digital-only platform. Team Ninja Warrior, a spin-off of the NBC competition series American Ninja Warrior, debuted on Esquire last year.
Season two of Team Ninja Warrior debuts on April 18th at 10 p.m. ET/PT on USA Network.
Read more details below:
New York, NY — March 6, 2017 — Epic competition series TEAM NINJA WARRIOR is bringing more heat to USA Network's Tuesday night line-up. Hosted by comedian Matt Iseman and former NFL player Akbar Gbajabiamila, TEAM NINJA WARRIOR will premiere its 11-part second season on USA beginning Tuesday, April 18 at 10/9c, immediately following WWE SMACKDOWN.

TEAM NINJA WARRIOR, part of the Emmy(R) nominated franchise "American Ninja Warrior," pits three-person athletic teams against each other on physically demanding, side-by-side obstacle courses that test both endurance and speed. Originally debuting on Esquire Network in 2016, TEAM NINJA WARRIOR ranked as the network's most watched original series in its history. Esquire recently announced that the network, a partnership between NBCUniversal and Hearst Magazines, will transform into a digital-only brand.

"TEAM NINJA WARRIOR is a perfect pairing to WWE SMACKDOWN," said Chris McCumber, President, Entertainment Networks, NBCUniversal Cable Entertainment. "With this powerful franchise, we're giving our passionate audience three full hours of jam-packed, high-stakes action every Tuesday night."

For Season 2, fan-favorite competitors from "American Ninja Warrior" will form 28 teams, each with two men and one woman, and settle their rivalries on the warped wall — for ultimate ninja bragging rights. In addition to hosts Iseman and Gbajabiamila, FOX Sports' Alex Curry will serve as sideline reporter, rounding out the talent commentators.

TEAM NINJA WARRIOR is executive-produced by A. Smith & Co. Productions' founders Arthur Smith and Kent Weed ("Hell's Kitchen," "The Dunk King," "Spartan: Ultimate Team Challenge"), along with Brian Richardson as executive producer. The series is a spin-off of "American Ninja Warrior" which is based on the "Sasuke/Ninja Warrior" format from Tokyo Broadcasting System Television, Inc., and airs on NBC."
What do you think? Are you a fan of Team Ninja Warrior? Will you watch season two?