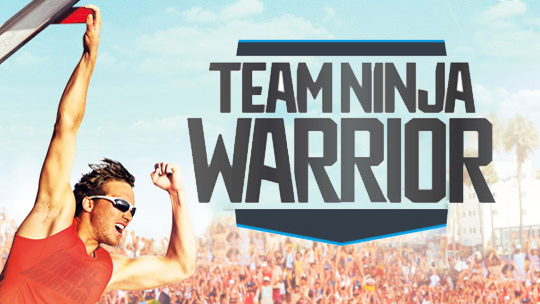 Get ready to rumble. Esquire has announced it will premiere Team Ninja Warrior, a new competition series based off NBC's American Ninja Warrior. 
The show will be hosted by American Ninja Warrior's Matt Iseman and Akbar Gbajabiamila and premiere sometime in 2016.
Team Ninja Warrior will see former American Ninja Warrior contestants team up for a new obstacle course that tests their strength and agility. The series is slated for eight, hour-long episodes that will air exclusively on Esquire.
Watch the preview below:
Here's the official announcement:
Esquire Network takes the physics-defying obstacle course competition series American Ninja Warrior to an entirely new level with TEAM NINJA WARRIOR, a spin-off produced by A. Smith & Co.'s Arthur Smith and Kent Weed, the production team behind American Ninja Warrior. TEAM NINJA WARRIOR will be filmed in Long Beach, CA from October 21-23, and hosted by former NFL player and sports analyst Akbar Gbajabiamila and comedian Matt Iseman. Featuring some of the greatest ninja competitors from past seasons of American Ninja Warrior, the 8 action-packed episodes of TEAM NINJA WARRIOR, will premiere in early 2016, exclusively on Esquire Network.

For the first time in ninja history, the mother of all obstacle courses is now built for two. Each one-hour episode of Esquire Network's TEAM NINJA WARRIOR, features competitors racing head-to head in a newly designed, but equally punishing, dual running course that incorporates speed, superhuman agility, skill and strategy.

The top ninjas from around the country will form 24 squads of three for an epic team-to-team race against the clock, and each other. The competitor's endurance and speed will be time-tested in three brutal rounds of obstacle course runs. From leaping off the "Sonic Rope," to tackling the "Flying Shelf Grab," scrambling down the "Double Jump Hang," and racing up the redesigned "Dual Warped Wall," the teams with the fastest cumulative times in each episode will advance to the finale where only one team will be crowned TEAM NINJA WARRIOR champions.

The teams will feature top performers from previous seasons of American Ninja Warrior including: Geoff Britten, the first person to ever defeat the course; Brent Steffensen, a six year Ninja veteran, "The Mighty" Kacy Catanzaro, the first woman to reach the American Ninja Warrior finals, who became a social media phenomenon with her finals run being viewed over 9 million times, and other top contestants such as, Flip Rodriguez, Brian Arnold, Joe Moravsky, Jessie Graff, Kevin Bull and Lance Pekus. All competitors will be running, jumping, vaulting and rolling through an amped-up version of the world's most intense obstacle course, vying for a big cash prize and even bigger bragging rights."
What do you think? Do you watch American Ninja Warrior? Will you be watching the new spin-off?