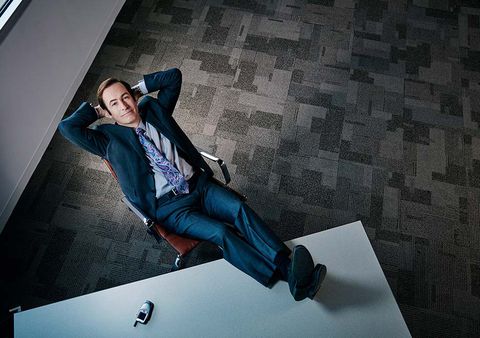 Could Jesse appear on Better Call Saul? According to Variety, Breaking Bad star Aaron Paul said he'd love to be part of the AMC series.
Paul played Jesse Pinkman for five seasons on Breaking Bad, which featured Better Call Saul lead Saul Goodman (Bob Odenkirk).
Speaking at the TCA winter press tour, Paul said there have been talks with the series' creator Vince Gilligan:
Hopefully I will be involved. But I don't know when that may be. I'm not going to say anything more. But I'm absolutely open to the idea. Hopefully it happens. I'm all about it. … We've been talking about it even before they started shooting the show. He asked if I would be open to it, and I said of course. 'Anything you're involved with, you don't even have to send me the material. I'll just say yes. I owe you my career.' I have a career because of that man. I would do anything he asked me to do."
But in what capacity would Pinkman return? Paul said the circumstances would have to be more than just a wink to the fans:
If I were to be involved, I can promise that it would be done in the most beautiful way. Because there's no way they're going to bring Jesse Pinkman back just to bring him back. They're going to bring him back and the audience is going to be very excited not just to see him, but to see how it all unfolded."
Paul was at the press tour promoting his new original series for Hulu, The Path. The drama, which also stars Michelle Monaghan and Hugh Dancy, centers around the inner workings of a mysterious cult.
Season two of Better Call Saul premieres on February 15th.
Watch a trailer below:
What do you think? Are you a fan of Better Call Saul? Would you like to see Jesse on the series?