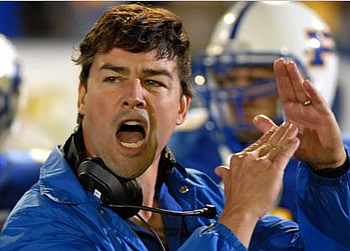 Friday Night Lights has been renewed through season five but it looks like that will be the end. NBC and DirecTV haven't made an announcement that the show's officially cancelled but, according to many in the cast and crew, there won't be a sixth season.
What can you do? Remember, the ideal scenario for DirecTV and NBC is for many millions of people to watch the show on their television sets, while it's being broadcast. Unfortunately, ratings are put together based on a sampling of viewers. If you're a "Nielsen household," your viewing is being counted. If not, it's not.
However, if you like Friday Night Lights and want to see it continue, there are a few things you can do to help.
If you're a Nielsen family, watch the show whenever it's on. If not, watch it on NBC.com or purchase episodes online so your viewing will be directly counted. Encourage others to watch the show. You might know a Nielsen family and not be aware of it.
Talk about the show with others; at school, at work, online, or wherever. Creating a buzz about a show that you're invested in gets other people interested and might help bring former viewers back.
Sign the petition below and encourage others to do the same.
Purchase official series DVDs from Amazon or another retailer.
Write to the network. Be respectful. Everyone responds better to courtesy. Tell them how much you enjoy the show, that you've signed the petition, and that you want to see it continue. You can use this form or, even better, write via snail-mail to: Mr. Jeff Gaspin, Chairman, NBC, 3000 W. Alameda, Burbank, CA 91523, RE: Friday Night LIghts
Take note of the products that are advertised during the show. Write the advertisers and tell them that you appreciate their sponsoring the show and that you buy their products (if you do).
---
To NBC, DirecTV, Film 44, Imagine Television, and Universal Media Studios:
We, the undersigned, enjoy watching Friday Night Lights on DirecTV and/or on the NBC network. We keep coming back to this drama week after week and year after year. The acting is excellent and the stories are wonderfully engaging.
Please find a way to keep Friday Night Lights on the air. We are devoted viewers who will continue to watch the program, encourage others to do the same, and will support the series' advertisers as well. Please keep it going, either on NBC and DirecTV or, if necessary, on another NBC-related channel.
Thank you for your consideration.
Country: Usa
2020-05-31 20:28:43
Great story lines and characters are so easy to relate to. Please bring this family show back.
Country: USA
2020-05-09 15:41:06
Please give us season 6 to give us an ending about what happens to the main characters.as the pair up. Do they find true love etc.
Country: United States
2020-01-29 06:28:35
Went to visit my daughter, she had Sling TV, I binged watch 4 season tht whole week,u can relate to it, so real to life, Jus loved this show
Country: Usa
2020-01-18 21:17:29
Do season 6
Country: United states
2019-12-12 19:47:56
Really great show hated to see it end. Still watch it over to this day
Country: United states Memphis Tn
2019-10-24 22:05:57
I love this show ive watched season 1 thru 5 all i can say is amazing i really can relat to this show begging for more
Country: United States
2019-10-23 19:33:36
I really enjoy the show and feel a connection, watch it every day after work
Country: United States
2019-10-19 19:17:02
I really hope you bring it back for another season. My family loves the show we feel like its part of our family.
Country: United States
2019-10-15 07:15:18
Awesome show
Country: United States
2019-09-06 14:48:00
Binged watched all 5 seasons and it was great series. I love the way it was family oriented and the actors and story lines were great!
Country: United States
2019-08-21 00:18:58
My family and myself just recently started watching FNL and we fell in love with it. It's saddening that there isn't anymore seasons after season 5! Please make more seasons!
Country: United states
2019-07-26 00:08:36
Season 6 pleaseeeee
Country: usa
2019-07-09 19:33:50
love the series and hoping for more.
Country: USA
2019-05-19 11:57:54
I, love this show so much. It teaches teens,adults and love ones to be respectful to others and most of all to build character. Please continue with another season, if at all possible.
Country: United States
2019-04-01 00:37:27
There should have been more than 5 seasons, excellent cast.
Country: USA
2019-03-27 22:02:27
My family and I are huge football fans and we absolutely loved this show. We want more of it! Please bring the show back with the same coach and his wife! We need more coach Taylor!
Country: USA
2019-02-12 00:13:47
I just watched all 4 season of Friday night's light and I am totally crushed to find out that the 5th season I just began is the end, I think this show should have 100s of season its so good I just can't believe it only got 5 season. So disappointed
Country: Usa
2019-02-08 10:01:18
Good show
Country: USA
2018-11-26 19:03:14
I binged watched this show and looked forward to the next episode after each one. I love Coach and his wife. Perfect couple. I hope its renewed for another swason.
Country: U.S.A.
2018-11-01 02:03:58
Bring Friday night lights back
Country: Australia
2018-04-19 00:18:24
Best Show ever . Bring it back
Country: Usa
2018-03-14 21:01:29
Return Friday night lights to Netflix
Country: United States
2017-10-03 00:51:58
I need FNL back please. I love it so much!!! ~sincerely a distraught Texas college student
Country: USA
2017-07-11 12:04:36
Bring back a closure season.
Country: united states
2017-06-26 14:05:27
Please bring this show back!!