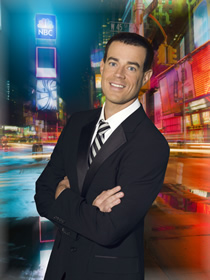 Network: NBC
Episodes: 2,000 (half-hour)
Seasons: 17
TV show dates: January 8, 2002 — TBD
Series status: Ending
Performers include: Carson Daly (host)
TV show description:
A late night variety show that's led by former Total Request Live host Carson Daly.
This New York-based series began on a black sound stage with just a few chairs and a table for the host and guests. During this time, a different little-known band was brought in to do the show's music each week. Eventually more decor was added and the show relocated to Los Angeles.
A more traditional late-night talk show set was added as was a house band (led by Joe Firstman), short comedy monologues, and occasional comedy skits.
In later years, Daly and the show routinely began going out on location, to give audiences a perspective that's different from the typical late-night fare. Highlights have included a motorcycle trip across the historic Route 66 and a visit to comedian Tom Green's house.
The series continues to highlight new performers, giving them an opportunity to be heard and seen by a nationwide audience. Acts like Maroon 5, The Killers, Katy Perry, Asher Roth, Ray LaMontagne and Gavin DeGraw have all made their network TV debuts on the program.
Series Finale:
Episode #2,000
This episode has not aired yet.
First aired: TBD 2019


What do you think? Do you like the Last Call with Carson Daly TV show? Do you think it should be ending or renewed for an 18th season?