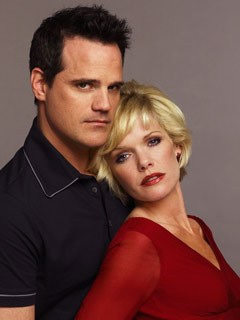 After more than 13,500 episodes, CBS has cancelled As the World Turns.
The company that actually owns the show, Proctor & Gamble, says they'd like to keep it going — perhaps online or via a cable channel. If you'd like to see the soap opera continue, let them know that you support their efforts and encourage them to keep searching to find a way to keep the show going. Here are some suggestions.
If you like the show, make sure that you tune in to watch it on CBS. Encourage your friends to do the same. The show's decline in viewers is the reason why the show was cancelled. The higher the viewership, the more likely it is that P&G will be able to find a new home for the soap.
Consider buying P&G products. They make hundreds like Bounty, Bounce, Clairol, Crest, Dawn, Gillette, Head & Shoulders, Ivory, Mr. Clean, Old Spice, Pampers, and Pringles. You can visit their site to see the full list. You probably buy some already.
Sign the petition below and let P&G know that you've signed it. Spread the word.
Write to P&G and let them know how you feel about the show. Tell that you're buying their products and which ones you like. Are you a stockholder? Let them know. Be respectful and polite. The company obviously want to be able to keep Light going if they can profit from it. It can be a win-win situation for everyone. You can email or, better yet, write a letter to:
Mr. Alan Lafley, CEO, Proctor and Gamble, As the World Turns support, 1 P&G Plaza, Cincinnati, OH 45201
The last episode will air on CBS in September 2010 so don't delay!
---
To: Mr. Alan Lafley, CEO of Proctor and Gamble
We the undersigned are faithful viewers of As the World Turns and are dismayed that the program has been cancelled by CBS. This soap has been going for generations and we believe it should not end now.
We appreciate that you are seeking a way to continue the soap in some way once it leaves CBS in September. We implore you to keep working until this becomes a reality. We support you through the products that we purchase and will continue to support As the World Turns.
Thank you for your consideration.
Country: USA
2018-05-15 02:27:01
I started watching ATWT when I was a teenager and continued for many years, thanks to my DVR. I taped it for years. I am now 72 years old and hate that it no longer is on TV. PLEASE MAKE THIS GRANDMA HAPPY! Bring it back or at least do a special.
Country: USA
2016-12-13 01:06:08
As The World Turns and Guiding Light was my favorite soaps I watched them since 1987. I would love for you to bring them back. The only way I watch them is Youtube.
Country: United States
2016-10-26 17:41:00
It was a great show. Loved it, please bring it back.
Country: USA
2016-10-13 16:36:09
Watched both shows with mother,grandmother and aunts!
Country: USA
2016-10-12 16:15:52
Long time viewer and looked forward to watching the show with my mother and Father , I've watched the Soap Opera since I was 15 also watched the Guiding Light.
Country: USA
2016-07-21 12:10:59
I hate the shows CBS has on now. I miss ATWT and GL.
Country: USA
2016-06-20 13:48:54
Long time viewer and looked forward to watching the show with my mother who also watched the show with her granny back when it was just a 15 minute show.
Country: Canada
2016-06-07 15:39:04
ATWT BEST SHOW ON TV DAYTIME OR NIGHT SHOWS The writing in the last year or so before it ended was a little lame . , my suggestion , keep the SHow Get new writers
Country: Trinidad, West Indies
2016-06-06 16:41:33
Please bring it back. The whole cast of 2010 if possible!!!
Country: netherland
2016-02-11 16:12:30
Please come back with the whole cast of 2010 we miss u guys , best soap ever
Country: The Netherlands
2015-12-29 16:19:28
I was watching some episodes of As the World Turns on YouTube today and it made me realize that I still miss the soap very much. My mom and I used to sit every day and watch 'our' soap and the storylines that I just saw on YoutTube remained so interesting and great as the first time I saw it on TV. It's has been 5 years ago that As the World Turns had its last episode aired on tv and I am strongly convinced that there are thousands of people from all over the world, including me and my mom, that would be delighted that the company, Proctor and Gamble, would reconsider their decision and try to come up with a solution to air As the World Turns on TV again.
Country: United States
2015-11-03 14:32:52
Please bring my favorite show back I am so sick of seeing all these wack talk shows on every station
Country: Australia
2015-08-24 04:35:34
Oakdale was just a town of ordinary people, but it's a town where something extraordinary happened every day! Please bring it back!!! An American institution and the best soap opera ever made!
Country: US
2015-06-22 10:16:35
Please revive the show! It's the only soap opera that I really enjoy watching on daytime TV.
Country: USA
2015-05-05 10:30:24
Please bring ATWT back. I grew up on the show and have fond memories. Please please bring it back!!
Country: United States
2015-03-22 12:28:39
Bring back both As The World Turns, and Guiding Light. What CBS runs now is a joke. Brainless game shows, and The Talk is terrible gab fest.
Country: united states
2015-03-13 12:51:01
I want as the world turns and guiding light back
Country: United States
2015-02-20 14:07:11
The soaps that are still on the air are getting good ratings. I miss my CBS soaps: World Turns and Guiding Light. Why don't you do a mash up of both of them and bring one or the other or both back on air. I miss the characters. I started watching a soap that is still on air. I would prefer my old favorites. Consider an online version.
Country: Nederland
2015-01-13 15:07:21
I Would love for ATWT to come back, i really miss it and so do so many others.
Country: netherlands
2014-11-07 09:13:06
pls bring back as the world turns. i still miss it and i need it back. i hope they find a way to bring it back. the best show ever. hope to see u soon as the world turns.
Country: netherlands
2014-10-07 17:06:31
I still miss this show every day! This was the best soap ever, and it's a crime that it is cancelled. I Will never get over it. Bring it back, and cancel the Bold! The Netherlands need ATWT!
Country: usa
2014-10-05 22:47:53
i grew up watching atwt its a great show that everyone loves please bring it back
Country: usa
2014-09-26 17:31:47
Please bring back "As the world turns" I have been watching since u was 6 years old and I'm now 35 please! Please!please bring it back!
Country: usa
2014-09-16 23:20:31
I grew up watching this show with my grandma and continued to watch until the last show I miss it so much please bring it back that we'd be wonderful
Country: Nederland
2014-07-30 14:17:12
Please please let as the world turns come backkkkkk pleasee, there s no other show like this one bricg back all tje caracters back and continuing the episodes