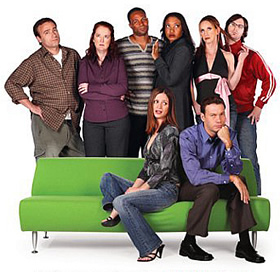 Network: Bravo
Episodes: 12 (hour)
Seasons: One
TV show dates: March 3, 2004 — December 19, 2004
Series status: Cancelled/ended
Performers include: Faith Salie, Herschel Bleefeld, Andrea Savage, Brian Palermo, Jane Edith Wilson, Fred Goss, Nicole Randall Johnson, Chris Spencer.
TV show description:
An improvised sitcom that follows four very different couples in and outside of couples therapy.
Free-spirited Chelsea (Andrea Savage) and straight-laced James (Brian Palermo) married after a whirlwind courtship. Now that things have simmered down, they must find a way to juggle their busy lives while getting to truly know each other.
Immature couple Eleanor (Faith Salie) and Ethan (Herschel Bleefeld) are expecting a baby. Will they're new arrival force them to actually grow up themselves?
Since good-hearted Bill (Fred Goss) lost his job, he and wife Connie (Jane Edith Wilson) barely communicate. Something's missing in their marriage but sometimes missing things can turn up in unexpected places.
Successful couple Alex (Nicole Randall Johnson) and Devon (Chris Spencer) try to be good parents to their son Rodney (Blake Hightower) — when they aren't busy arguing with each other, their maid, and just about everybody else.