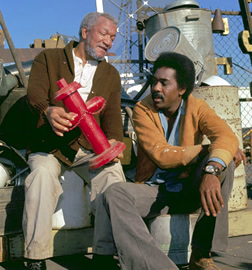 Network: NBC
Episodes: 135 (half-hour)
Seasons: Six
TV show dates: January 14, 1972 — March 25, 1977
Series status: Cancelled/ended
Performers include: Demond Wilson, Redd Fox, LaWanda Page, Don Bexley, Whitman Mayo, and Nathaniel Taylor.
TV show description:
Stubborn Fred G. Sanford (Redd Foxx) is a 65-year-old junk dealer in the Watts neighborhood of Los Angeles, California. After the death of his beloved wife Elizabeth twenty years ago, Fred was left to raise their only son, Lamont (Demond Wilson), by himself. Fred doesn't have many redeeming qualities as he's usually lazy, sarcastic and stubborn — attributes that Elizabeth's Bible-touting sister, Esther Anderson (LaWanda Page), is all too happy to renounce.
Lamont does most of the work for the business and would like to be on his own but loves his father too much to leave him to clean up after his numerous hair-brained, money-making schemes. For help in his schemes, Fred can usually count on his dim-witted friends like Grady Wilson (Whitman Mayo) and Bubba Bexley (Don Bexley). For all of his faults, Fred is somehow able to hold onto his relationship with good-natured nurse Donna Harris (Lynn Hamilton). Other characters include Lamont's shifty best friend, Rollo Larson (Nathaniel Taylor); and two police officers, "Smitty" Smith (Hal Williams) and "Hoppy" Hopkins (Howard Platt).
During the run of the series, Mayo's character was spun-off to his own show entitled Grady. It was cancelled after 12 episodes and he returned to Sanford & Son.
After the cancellation of Sanford & Son (over salary demands from Foxx), NBC tried to continue the series without the two main characters in Sanford Arms. It didn't work and was cancelled after eight episodes.
In 1980, Foxx revived the show on NBC as simply Sanford (Wilson declined to be involved). It lasted two seasons.