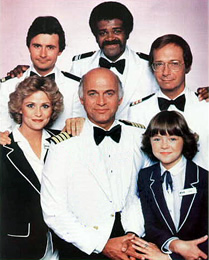 Network: ABC
Episodes: 249 (hour)
Seasons: Nine
TV show dates: September 24, 1977 — May 24, 1986
Series status: Cancelled/ended
Performers include: Gavin MacLeod, Fred Grandy, Ted Lange, Bernie Kopell, and Lauren Tewes.
TV show description:
Passengers that are looking for romance and adventure usually find it aboard the Pacific Princess cruise ship.
The ocean liner, appropriately nicknamed "The Love Boat," is commanded by the affable, but stern, Captain Merrill Stubing (Gavin MacLeod). His mostly-capable crew includes Yeoman Purser Burl "Gopher" Smith; cruise director Julie McCoy (Lauren Tewes); ship physician Dr. Adam "Doc" Bricker (Bernie Kopell); and bartender Isaac Washington (Ted Lange).
Later in the series, the Captain's young daughter, Vicki (Jill Whelan), comes aboard to stay with her father. When Julie leaves the ship, her sister Judy (Pat Klous) takes her place. Ashley "Ace" Covington Evans (Ted McGinley) also joins the crew as the ship's photographer.
Many of the original cast reunited four years after the show's 1986 cancellation for a TV movie, The Love Boat: A Valentine Voyage.
In 1998, a new series — The Love Boat: The Next Wave — debuted with a new cast but lasted only one season. MacLeod, Kopell, Lange, Tewes, and Whelan appeared and reunited for one episode.