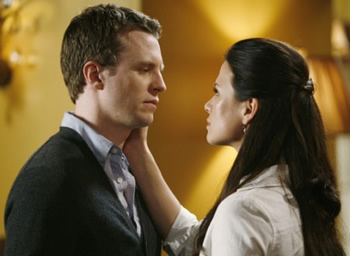 There's a lot of incredible things going on in the Gates community. As unbelievable as it might seem, the show's ratings haven't been very good. As a result, there's a very real possibility that The Gates TV show will be cancelled and won't be back for season two.
What can you do? Remember, the ideal scenario for ABC is for many millions of people to watch the show on their television sets, while it's being broadcast. Unfortunately, ratings are put together based on a sampling of viewers. If you're a "Nielsen household," your viewing is being counted. If not, it's not.
However, if you like The Gates and want to see it continue, there are a few things you can do to help.
If you're a Nielsen family, watch the show whenever it's on. If not, watch it on ABC.com or purchase episodes online so your viewing will be directly counted. Encourage others to watch the show. You might know a Nielsen family and not be aware of it.
Talk about the show with others; at school, at work, online, or wherever. Creating a buzz about a show that you're invested in gets other people interested and might help bring former viewers back.
Sign the petition below and encourage others to do the same.
Write to the network. Be respectful. Everyone responds better to courtesy. Tell them how much you enjoy the show, that you've signed the petition, and that you want to see it continue. You can use this form or, even better, write via "snail-mail" to: Mr. Paul Lee, President, ABC, 500 S. Buena Vista Street, Burbank, CA 91521, RE: The Gates
Take note of the products that are advertised during the show. Write the advertisers and tell them that you appreciate their sponsoring the show and that you buy their products (if you do).
---
To ABC, Fox Television Studios, and Little Engine Entertainment:
We, the undersigned, enjoy watching The Gates on the ABC network. The series has just the right mixture of drama and supernatural suspense.
Please find a way to keep The Gates on the air. We are devoted viewers who will continue to watch the program, encourage others to do the same, and will support the series' advertisers as well. Please keep it going, either on ABC or, if necessary, on another Disney-owned channel.
Thank you for your consideration.
Country: USA
2018-03-25 22:43:04
Bringing the gates back is what should happen
Country: US
2018-01-27 21:30:25
This show is better than most shows that went on for countless seasons! It deserves a chance to reprove itself! Please being back the crew and film another season (or more!!!). The crew were all very talented and the plot was very interesting and intense!
Country: USA
2017-12-04 23:40:38
Bring season 2 back please!!
Country: USA
2017-11-17 00:34:22
I really want to see another season of the Gates it ended In the middle of what is going to happen next, please make a season 2
Country: America
2017-10-19 18:06:42
Hello my name is Jaslin and Martinez and I was memorize by The Gates... I'm wondering what's going to happen next please please do not cancel this amazing show continue with season two
Country: USA
2017-10-09 17:11:39
This is an awesome show. It kept me on the edge of my seat. I want to see a season two!
Country: United States
2017-10-07 16:39:29
I never heard of this show until I saw it on Netflix this year, the show needs to return back on the air. You cant end a series completely with how it ended on season 1.
Country: United States
2017-10-07 16:39:29
I never heard of this show until I saw it on Netflix this year, the show needs to return back on the air. You cant end a series completely with how it ended on season 1.
Country: United States
2017-09-29 04:24:41
Please bring the show back for a second season I'm sure now that it has been on Netflix given the popularity you would get great ratings.
Country: USA
2017-08-28 00:15:23
I enjoyed this series immensely. It had a good plot with great characters. I hope it is renewed!
Country: United states
2017-08-16 15:27:37
Please bring the show back absolutely love it want to see what happens next
Country: USA
2017-08-14 12:24:58
PLEASE SOMEBODY PICK UP THIS SHOW **ASAP**
Country: u.s.a
2017-08-08 20:00:55
Please bring it back..we were left on such a cliff hanger its almoat not fair
Country: U S A
2017-07-08 15:47:44
I agree with most of everyone. This shot ha a good plot the characters were good together. THE ENDING WAS CRAZY were the writers ready for a hiatus. there were a couple of areas that need closure of some sort. This show is incomplete. Please finish it. Season 2 re: Devon, Leigh. Will Nick & family leave? What will happen to Nick & Claire?
Country: USA
2017-06-22 16:41:29
I finished season one and there is a major cliff hanger that needs to be addressed. While I am not sure if ABC will pick this terrific show up, it would be great if another network (preferably Netflix, since they have season one on their site) to pick this show up. The cast was phenomenal, and the plot was intriguing...plus the show has received positive revues from other fans, and we are all willing to support its return. Please do that for all of us.
Country: USA
2017-06-17 21:12:53
I watched all of season 1 and that huge cliff hanger at the end makes me want to watch season 2 please make season 2 a thing
Country: USA
2017-06-11 00:27:50
Found it on Netflix and was sad there was no season two
Country: USA
2017-05-31 01:10:13
I just watch the season on Netflix and I'm dying for more please!
Country: United States
2017-05-06 22:02:45
We never had cable! Watched it on Netflix. Please continue it! Netflix!! Bring it back! You've brought back many great shows, Please bring this back!!!
Country: USA
2017-04-26 11:23:38
I just finished watching the show for the third time. I love it! Please bring it back.
Country: Bahamas
2017-04-25 17:41:47
I love this show please bring it back
Country: US
2017-04-25 00:44:58
I can't believe that I watched this entire season and will have no closure!!!!!! At least do a mini series finale!
Country: Jamaica
2017-04-24 23:01:48
This was an amazing tv show. I actually do love this series over Bitten,GOT and so much more. Please bring back the series or have a spin off that continues with the same energy that was given. The actors all were perfect for the roles they had. I'm telling you that shows nowadays do not have the hold that you guys had. We all want this show back.
Country: United States
2017-04-24 05:40:33
I really really want there to be a season 2!! I want to know what happens, it ended so weirdly with after Devin brought Charlie back to life. And, I've already seen the entire Season 1 twice already. Hope number 2 comes on netflix SOON!! THANKS!
Country: US
2017-04-10 03:32:36
Unfortunately not everyone can watch live episodes with a busy schedule. nowadays everything is either DVR watch it later or streaming when all the episodes are released. Really should based the ratings off that because you would be surprised how many viewers watch shows that way compared to the days of old. I really enjoyed this serious and was left anticipating what would happen in season 2 to find out it was cancelled due to not enough viewers. Before cancelling something please at least run a few seasons 2-3 before nixing a show. Especially a good series as this one. It honestly could of been a long running series like Vampire Diaries or Supernatural set in the suburbs of modern day living. I give this series 2 thumbs up and please figure out a way to do season 2 while encouraging new fan based viewers to watch.