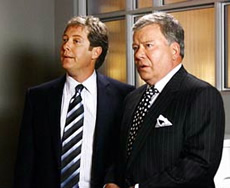 ABC may have cancelled the Boston Legal TV show after 101 episodes but it's clear that there's still stories left to be told. Will the new marriages last? Where will our favorite lawyers end up?
Many believe that the series shouldn't have ended just yet. Though the show's ratings have dipped over the years, the numbers aren't that low. These days, some networks would love to have that many viewers. The show often comes in second against CBS' dominant CSI: Miami.
Would you like to see this award-winning dramady continue in some way — perhaps as a TV movie, a spin-off, or even as part of David E. Kelley's new legal drama? If so, sign the petition below and make your case for continuing to follow the crazy exploits of Alan Shore and Denny Crane. Write to the studio and the network and tell them you'd like to see the characters live on. Go ahead, channel your "inner Alan Shore."
---
To: ABC, 20th Century Fox Television, David E. Kelley Productions
We, the undersigned, greatly enjoy watching the ABC TV show, Boston Legal. The series is truly a unique program, continually controversial, outrageous, and touching — often at the same time.
We're truly sorry to see this wonderful show come to an end and are not ready to say goodbye to the attorneys of Crane, Poole and Schmidt. Please consider continuing the escapades in some new way, perhaps as a TV movie or a spin-off. There are millions and millions of loyal Legal viewers who are waiting to see what happens next.
Thank you for your consideration.
Country: USA
2020-02-24 01:18:13
Would love to see Boston Legal back on TV. It is a pleasure to watch and enjoy the unexpected, unexpecteds. They are so comical sometime. Would love to see the untold stories or reruns!
Country: United States
2019-04-12 19:58:56
Would like Boston legal to come back
Country: U.S.A.
2019-02-26 07:39:18
This show is just as relevant today as it was 10 years ago. We need this show, now.
Country: USA
2018-10-21 22:55:12
Watched Bosten Legal when on primetime and now reruns the writing is smart and witty. Compelling subjects on some topics. And the roles for each are entertaining and sadly there are attorneys that are actually that arrogant as portrayed in Boston Legal. Truly miss Boston Legal. Good job D.Kelly!
Country: usa
2018-02-26 14:55:19
Please, with all the insanity in America today, we need the voice of reason to speak just one more time. Think of all the timely topics they could address,
Country: Canada
2017-01-01 13:02:32
A spin off with Denny and Alan and Jerry would be awesome, I watch the Series Boston. Legal a couple times a year since the series ended, it never seems to get old, I love it.
Country: USA
2016-09-09 19:51:15
We want it back in any format.
Country: USA
2016-08-05 12:37:47
So much material! We can keep going!! I miss the whole cast!!
Country: USA
2016-04-12 14:17:30
It's worth a spin off at least. Enough time has past that it could be great. Use the same great writers but new fresh characters. Bring the old characters back here and there. I'd watch. I'm sure others would as well.
Country: Canada
2016-02-24 03:15:04
Boston Legal, still is, my favourite series--despite the countless shows which have been thrown in the mix since its cancellation. 5 seasons was barely a start. The show continued to be entertaining, moving, hilarious...etc. The chemistry the characters had is remarkable. It's rare that EVERY episode of a series is as good as the previous. In the case of Boston Legal, every episode was brilliantly entertaining at multiple levels. I, for one, would welcome another 5 seasons!
Country: Germany
2016-02-17 18:16:36
Please bring them back on TV!
Country: India
2015-09-25 05:36:40
I am a die hard fan of James spacer and William Shatner ... Kindly find a way to continue or restart this epic series . I literally miss the adventures of Alan shore and Danny crane
Country: United States
2015-09-21 22:24:16
Boston Legal went off the air to soon. An uplifting show with many laughters. Bring the show back. I still look at the reruns.
Country: USA
2015-09-19 10:53:47
I LOVE BOSTON LEGAL. IT WAS FINE ENTERTAINMENT. I HAVE ALL THE DVDS. THERE ARE A FEW SEASONAL SHOWS I WATCH BUT BOSTON LEGAL IS NUMBER ONE. PLAEASE BRING IT BACK WITH THE SAME CHARACTERS. IT WAS A TRUE ENJOYMENT.
Country: United Kingdom
2015-05-27 05:16:00
Boston legal is hands down the best show on television. Not only because of the warm characterisation of people who fall outside the norms of mainstream media, but also because of the way serious philosophical issues are juxtaposed with humour and made relevant without diminishing the issues. This balance is no mean feet and I fee that such programmes perform a deep social role in presenting people who would usually be at best, remote from one another on grounds of race, politics and other fundamental differences into relationship and shows the truly human common ground which can be evoked. This programme will come to be seen as a cult example of intelligent television by a much younger audience. I hope someone at ABC has the foresight to save this iconic production, before it becomes apparent that they have dropped a rare and fine opportunity. One which affords the chance to spread accord, in a world so desperate for its unique brand of feel good warmth and thoughtful intelligence. Save Boston legal for the sake of my synapses..... Yours hopefully David Smith.
Country: USA
2015-05-21 04:41:15
Much better than crap like Suits and the rest.... We want real lawyering!
Country: UK
2015-04-07 05:25:45
Not many shows are worth an extended run however Boston Legal is exceptional - bring it back!
Country: Canada
2015-02-23 16:25:51
I'd just finished watching the whole series on DVD. I gotta say what an awesome show! You can't get any better than this. Having said this, please bring back Boston Legal. After two days of watching the last episode, I have already missed the show terribly.
Country: UK.
2015-02-22 13:31:40
Why remove such a popular adult show, crazy.
Country: Australia
2015-02-03 07:46:25
Only a knob would cancel a show this good. Not many shows are this great
Country: USA
2014-12-29 21:58:37
I need the this show its my fix i only watched this show 25 times and starting over from episode 1 again
Country: United states of America
2014-12-27 04:21:28
Please bring back Boston Legal! It was definitely the best show in my opinion, to ever air.
Country: Argentina
2014-12-06 10:56:23
Should never have eended. Intelligent script, lovably characters, and some profound reflections about politics and life in the end of each chapter. One of the best series I´ve ever seen.
Country: United Kingdom
2014-11-09 13:40:52
Boston Legal should never have ended!
Country: United Kingdom
2014-11-05 16:45:55
Universal showed Series One again recently. Please, oh please show the next series 2. The best script of any programme on TV !!