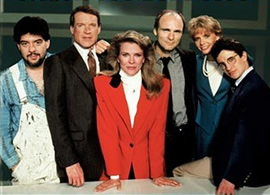 Network: CBS
Episodes: 247 (half-hour)
Seasons: 10
TV show dates: November 14, 1988 — May 18, 1998
Series status: Cancelled/ended
Performers include: Candice Bergen, Grant Shaud, Faith Ford, Joe Regalbuto, Charles Kimbrough, Robert Pastorelli, Pat Corley, Ritch Brinkley, Lily Tomlin, John Hostetter, and Garry Marshall
TV show description:
Recovering alcoholic Murphy Brown (Candice Bergen) is a tough investigative reporter and news anchor for a national TV newsmagazine named FYI.
She works alongside stuffy and old-style newsman Jim Dial (Charles Kimbrough), and her best friend, insecure undercover reporter Frank Fontana (Joe Regalbuto). Young and neurotic Miles Silverberg (Grant Shaud) becomes the show's producer and adds a perky former Miss America, Corky Sherwood (Faith Ford), to the anchor desk. The Washington-based group frequently congregate at the bar of gruff Phil (Pat Corley).
Corky eventually finds love with lawyer Will Forrest (Scott Bryce) and later, with Miles. When Miles leaves town for another job, he's replaced by tough Kay Carter-Shepley (Lily Tomlin), a former game-show producer.
Strong-willed Murphy dates infrequently but finds love with men like tabloid talk show host Jerry Gold (Jay Thomas), reporter Peter Hunt (Scott Bakula), and her ex-husband Jake (Robin Thomas), who ends up fathering her child Avery (Haley Joel Osment).
The only consistent man in Murphy's life is her philosophical house painter, Eldin Bernecky (Robert Pastorelli). He ends up moving on, as does Miles. The latter is replaced by uptight Kay Carter-Shepley (Lily Tomlin)
One of the series' running gags is that Murphy can't find a permanent secretary and must endure a long string of crazy temps.
Series Finale:
Episode 246 and 247 — Never Can Say Goodbye, parts one and two
Murphy plans on leaving
FYI
and fires her last assistant, snooty Secretary #93 (Bette Midler). It's been six months since Murphy's last chemotherapy treatment and she wants to enjoy the rest of her life.
The rest of the staff tries to come to grips with the idea of Murphy leaving and Jim wonders if it might be time for him leave as well. He seeks career advice from Mike Wallace who tells him that he's boring and has lost his spark.
Shooting on location down the street, Julia Roberts stops by the offices of FYI hoping to meet her favorite reporter, Frank Fontana. They eventually meet and arrange a date.
Murphy has another mammogram, expecting to get a clean bill of health but the scan shows something that will require exploratory surgery. At the bar, Murphy anguishes over the news and reflects on her need to talk to Phil for guidance. Shockingly, the deceased barkeeper actually shows up. It seems he knew too much about Whitewater so his death was faked and he was put him into hiding. Unfortunately he still knows too much for his own good and gets whisked away again.
Later, Murphy goes under the knife as her co-workers wait outside. While asleep, she has an out of body experience and visits heaven to talk to the only notable person she hasn't interviewed yet, God (Alan King). He tells her she must make the best of the gifts she's been given. She wakes up and learns that it was just a cyst and will be fine.
Her friends are happy for Murphy but are unsure about how to adapt without Murphy as a part of FYI. Jim prepares to leave and Murphy returns to the office. She's ready to tell everyone that she's changed her mind, when they all mention what they have in the works for their own careers. Murphy confesses her selfishness and says that she doesn't want to leave. After a group hug, they all get together to reminisce about memories of the past.
At the end of the day, Murphy returns to her townhouse. Her good friend and former house painter, Eldin has returned following a call from young Avery (Haley Joel Osment), who used his mother's Sprint card to track him down. Eldin proposes marriage to Murphy, but instead she offers him the opportunity to give the place a touch-up.
First aired: May 18, 1998.
Behind the Scenes
With the exception of the marriage proposal, Murphy's final scene with Eldin mirrors her first in the the pilot episode.
During the original broadcast, Sprint ran a special commercial featuring clips and celebrating Bergen's achievement. The actress was the company's longtime spokesperson. The onscreen message reads, "Congratulations, your show was wonderful. But, we're a little partial to your commercials. Thanks Candice."
The last episode was sponsored exclusively by Ford, the largest sponsors of The Susan G. Komen Breast Cancer Foundation's "Race for the Cure."
Two of the doctors in the final episode are played by ER veteran George Clooney and the show's creator, Diane English.
What do you think? Do you like the Murphy Brown TV show? Do you like the show's ending?