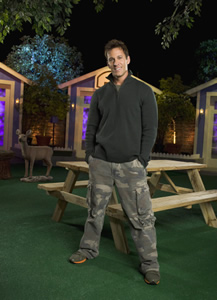 Network: NBC
Episodes: Eight (hour)
Seasons: One
TV show dates: February 18, 2008 — April 7, 2008
Series status: Cancelled/ended
Performers include: Dan Cortese (host)
TV show description:
In this reality-sports competition show hosted by Dan Cortese, four teams consisting of fathers and daughters or sons (ages 8-12) compete for bragging rights as well as the grand prize of $50,000.
Challenges include "Human Dart Board," in which dads have to push their offspring dangling from a rope and carrying a Velcro dart toward a giant dart board; "Uphill Battle," where dads have to push balls uphill into slots; "Out on Limb" requires dads to try and gather birds from a tree while other dads use slingshots on him; in "Snake Bobbing," dads bob for tomatoes in a pit of snakes; "Robo Paperboy" has dads throwing papers into windows for points; and in the "Quiz Round," dads answer trivia questions. The team that loses the first round is given a 15-second time penalty for the second round.
The lowest scoring teams in rounds two and three are sent to "the garage" and eliminated. The team with the most points goes on to the final or "money" round. In the final part of the game, dads are awarded $10,000 for each of the five questions that they can answer correctly about their son or daughter.

[su_pf]