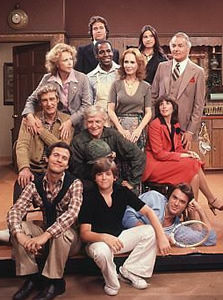 Network: ABC
Episodes: 85 (77 half-hours, eight hours), four seasons
Show dates:
September 13, 1977 — April 20, 1981
Show status: Cancelled/ended
Performers include:
Katherine Helmond, Robert Mandan, Cathryn Damon, Richard Mulligan, Ted Wass, Billy Crystal, Jennifer Salt, Jimmy Baio, Diana Canova, Arthur Peterson, Jay Johnson, Robert Guillaume, Donnelly Rhodes, Sal Viscuso, Rebecca Balding, Marla Pennington, John Byner, Dinah Manoff, Eugene Roche, Roscoe Lee Browne, Gordon Jump, Gregory Sierra, Nancy, Barbara Rhoades, Bob Seagren, Randee Heller, Caroline McWilliams, Inga Swenson, Jesse Welles, Allan Miller, Robert Urich, Howard Hesseman, Charles Lane, Lynne Moody, Joe Mantegna, and Rod Roddy.
Series Description:
This groundbreaking serial sitcom, created by Susan Harris, tells the story of two sisters — Jessica Tate (Katherine Helmond) and Mary Campbell (Cathryn Damon).

Naive Jessica is part of a rich family which includes her philandering husband Chester (Robert Mandan) and three children; man-crazy Corrine (Diana Conva), snotty Eunice (Jennifer Salt), and often-ignored Billy (Jimmy Baio). Jessica's senile father, the Major (Arthur Peterson), and sarcastic butler Benson DuBois (Robert Guillaume) serve as consistent sources of humor and commentary on the crazy Tate household.

Mary lives a middle-class life with her second husband Burt (Richard Mulligan) and two sons from her first marriage; gay Jodie Dallas (Billy Crystal) and Mafia tough guy Danny Dallas (Ted Wass). One of Burt's sons, Chuck (Jay Johnson), also lives in the Campbell house. Chuck is a ventriloquist who believes that his nasty and constant companion puppet Bob is a live person.

Later characters include convict Dutch Leitner (Donnelly Rhodes), Detective Donahue (John Byner), lawyer E. Ronald Mallu (Eugene Roche), and urbane butler Saunders (Roscoe Lee Browne). The series announcer is Rod Roddy.
Series Finale:
Episode 85
Jessica has been kidnapped by El Puerco's enemy and brought back to Malaguay. If El doesn't return to the island, she'll be killed. Mary is upset that her baby is likely half alien. After being hypnotized and regressed to a past life, Jodie still believes that he's an old Jewish man named Julius. The Governor of Connecticut wants Burt to run as his Lieutenant Governor but insists that Burt distance himself from his crazy family. Before he can decide, Burt is lured into an ambush by thugs who've been told to kill him. Danny and Annie's affair is discovered by a despondent Chester who'll likely soon die in a duel with El. Feeling humiliated, he decides to shoot the pair first. Jessica tries to cajole and convince her captors not to execute her but is unsuccessful. She's placed in front of a firing squad and we hear the guns fire. The series ends with several unresolved cliffhangers.
First aired: April 20, 1981.
What happened next?
In September 1983, over two years after the end of
Soap
, an episode of spin-off
Benson
gave viewers one last glimpse of Jessica Tate. In "God, I Need This Job," Benson is very stressed about his job as budget director. It doesn't help when he finds out that the Tates are trying to have still-missing Jessica declared legally dead. Moments later, his old friend appears to him in spirit form that only he can see. Jessica tells Benson that she needs to find a way to do a good deed that will help get her into heaven. After several bungled attempts, she succeeds in a way that also alleviates Benson's problems. As the two share a tender farewell, Jessica realizes that she's definitely not dead but is actually in a coma somewhere in South America. She tells him not to worry because she'll get out of it somehow, she always does. As she "floats" out of the room, we hear the strains of
Soap's
theme song one last time.
The 31st episode of
That '70s Show
called "Vanstock" includes a brief tribute to
Soap
. During the end credits we hear
Soap
-like music and announcer Rod Roddy teases the audience about what will happen to the show's characters. In the final scene, we see Chuck and Bob on the living room couch. The voice-over says "And what about Chuck and Bob? Oh wait, they're not on this show!" Bob looks at Chuck and scolds, "See, I told you we weren't on this show!" Chuck retorts, "Oh shut up, Bob." The announcer ends the episode by saying, "Confused? You won't be after the next episode of That '70s Show!" (To hear more about this cameo,
listen to the second part of our interview with Jay Johnson
.)
Behind the Scenes
•
When the last episode was filmed, the cast and crew had every expectation that the series would be picked up for a fifth year. Series creator Susan Harris has indicated that, had she known the show was going to be cancelled, it wouldn't have ended on a cliffhanger.
A wrap-up of some kind was considered but as time went on, it looked as if it would be too difficult to reassemble the large cast. Several castmembers have since passed away, including Damon, Mulligan, and Peterson. Though she hasn't revealed how the cliffhangers would have been resolved, Harris reassured fans in 1990 that Jessica "would have lived."
In an interview included on the Benson Season One DVD set, executive producer Tony Thomas said, "They [Benson and Jessica] were such good friends and there was such a deep care and love for each other. As Soap was winding down, I wanted Benson to come back and have a relationship with Jessica. I just believed that those two were meant for each other. She had a terrible husband, she got involved with terrible guys along the way, during the Soap series. And I just wanted to end it with Benson coming back and rescuing her from the whole thing because they were truly soulmates."
•
Though the show's ratings were still quite good in season four, ABC cancelled the series because of continued pressure from the so-called "moral majority." By the end of the series, only Vlasic pickles was the only advertiser interested in the series. In They'll Never Put That on the Air, executive producer Paul Junger Witt said, "We weren't killed by a fearful network. The network had been incredibly supportive. We had been doing this long enough to understand that they were in a business, and they sat down and showed us — dollar for dollar — why they couldn't afford to do it anymore."
•
Prior to the start of seasons two, three, and four, ABC aired 90-minute retrospective episodes that recapped where the previous season had left off. Two of the retrospectives were released on video tape in the 1990s but unfortunately, none of them are included on the DVD sets.
•
One of Soap's most popular characters, sharp-tongued butler Benson, was given his own spin-off and left the series at the end of season two. He returned to Soap for a few season three episodes and Jessica Tate visited his show twice — in episodes seven and 93. Like Soap, Benson unfortunately ended with a cliffhanger. (To learn what was in store for the next season of Benson, go here.)