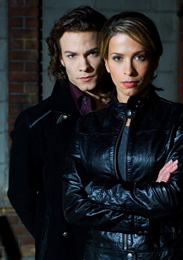 Though the vampire series didn't attract an overwhelming number of viewers, Blood Ties has some of the most devoted fans in recent television history. This simple fact makes it so confusing as to why the supernatural series was cancelled.
The series was produced in Canada and premiered on the Lifetime cable channel. The first season of Blood Ties was made up of 13 episodes and, while they were still airing, Lifetime ordered a second season of nine episodes. The 22 episodes had actually been produced as a single season.
Despite the fact that thousands of fans pleaded for more adventures of Vicki and Henry, Lifetime opted to leave Blood Ties off their schedule. There was interest among Canadian broadcasters in continuing the series but it wasn't possible without Lifetime's portion of the funding.
Many fans would like to see the vampire tale continue either as a series or, at least, in the form of a movie to wrap things up. How about you?

---
To: Lifetime Television, Pete Mohan/ Producer, Randy Zalkan/ Executive Producer
We, the undersigned, have passionately enjoyed each episode of Blood Ties and appreciate all that you've done to bring the series to us.
At the same time, we are extremely disappointed that the series has not continued. We ask that you please find a way to work out the scheduling and/or financial issues so that the series may continue, or if that is not possible, a movie based on the series is produced. We are convinced that there is still a devoted audience and market for this show.
Thank you for your consideration.

Country: United States
2021-01-13 16:28:47
Please bring Blood Ties back!!
Country: USA
2020-11-22 02:21:53
Enjoyed the show and would like to see more episodes.
Country: United States
2020-11-15 02:59:40
Want to see how this ends
Country: United States
2020-10-24 10:35:55
Bring Blood Ties back!
Country: United States
2020-10-11 17:29:28
I loved the show blood ties Henry and Vicki are a great couple on the show
Country: United States
2020-09-23 01:43:22
I just discovered this series on Amazon Prime and loved it. Then when the last episode aired I couldn't believe that was it! It was canceled and the storyline was left with so many storylines not being finished, just cutoff. I hate it when you love a good show like this and it is just gone! A true fan gets wrapped up in the characters and the storylines, to just end it like that is frustrating and heartbreaking. At least a movie wrapping things up would be awesome! Please let there be closure... It would be awesome to see Vicki & Henry get together. ❤
Country: USA
2020-09-02 20:56:47
Bring back the series, I too want to see who Vicki ends up with.
Country: United States
2020-08-11 21:09:39
Reboot!!!
Country: USA
2020-08-02 08:55:12
Loved this show! Want to find out who Vicki ends up with.
Country: US
2020-07-23 23:43:23
Please Bring back the Blood Ties Series. I loved and enjoyed season 1 and 2 and am very disappointed that more season were not done. Blood Ties had great ratings and has a high following of followers that in itself are very good reasons to bring Blood Ties back and continue doing more series of it. Thank you! Sincerely, Rhonda Clark
Country: England
2020-07-14 16:37:23
Please,please make more episodes of blood ties
Country: England
2020-06-10 18:45:14
Bring back blood ties it was great.
Country: United States
2020-06-03 01:44:56
Look as a kid I watched it and wondered why it stoped airing I'm thinking ppl need to get a hold of some one so that we can get it running again cuz even now after so many years that's the best show I have watched it was the only thing I would sit threw as a kid and that tel u something cuz most kids have an attention Shane of a flea always bouncing around at night when it's time to settle in be sides if it weren't for the show I'm pretty sure I'd never have been interested in any thing but facts
Country: USA
2020-05-31 04:07:43
Great show. Needs another season and a happier ending.
Country: United States Of America
2020-03-16 23:10:25
I think they should bring back Blood Ties Series for real please.
Country: United States Of America
2020-03-16 22:57:46
I want to see a new series of the Canadian blood ties series.I love this series and I'm a very big fan of the series.
Country: United States
2020-03-11 17:34:19
I NEED TO KNOW MORE!
Country: USA
2020-03-04 19:32:48
So hurt and disappointed in the way that ended
Country: Uk
2020-02-28 08:05:06
Bring it back please
Country: United Kingdom
2020-02-25 17:11:27
You should bring blood ties back i watch as a teenager,and i i just found it it again it brought back some good memories for me.so i want to know what happens to Vicky and Heny love triangle.
Country: USA
2020-02-21 12:09:27
Please continue with the series for Blood Ties.
Country: United States
2020-02-19 20:26:24
I would love to see the series continue. I'm a big fan of the show
Country: USA
2020-02-13 23:45:19
Please reboot blood ties It was a great show.......
Country: United States
2020-02-10 15:12:58
This show has been totally different from every vampire series I have seen. And believe me when I say I'm an expert when it comes to vampire series and shows, movies,even book's. Please bring it back. Better yet why not offer it to Netflix. They are always picking up cancelled shows and putting it on Netflix...
Country: United States
2020-02-09 16:21:43
This show was so good, it would be amazing for it to come back!!!