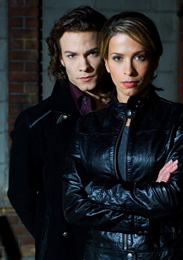 Though the vampire series didn't attract an overwhelming number of viewers, Blood Ties has some of the most devoted fans in recent television history. This simple fact makes it so confusing as to why the supernatural series was cancelled.
The series was produced in Canada and premiered on the Lifetime cable channel. The first season of Blood Ties was made up of 13 episodes and, while they were still airing, Lifetime ordered a second season of nine episodes. The 22 episodes had actually been produced as a single season.
Despite the fact that thousands of fans pleaded for more adventures of Vicki and Henry, Lifetime opted to leave Blood Ties off their schedule. There was interest among Canadian broadcasters in continuing the series but it wasn't possible without Lifetime's portion of the funding.
Many fans would like to see the vampire tale continue either as a series or, at least, in the form of a movie to wrap things up. How about you?

---
To: Lifetime Television, Pete Mohan/ Producer, Randy Zalkan/ Executive Producer
We, the undersigned, have passionately enjoyed each episode of Blood Ties and appreciate all that you've done to bring the series to us.
At the same time, we are extremely disappointed that the series has not continued. We ask that you please find a way to work out the scheduling and/or financial issues so that the series may continue, or if that is not possible, a movie based on the series is produced. We are convinced that there is still a devoted audience and market for this show.
Thank you for your consideration.

Country: USA
2020-02-13 23:45:19
Please reboot blood ties It was a great show.......
Country: United States
2020-02-10 15:12:58
This show has been totally different from every vampire series I have seen. And believe me when I say I'm an expert when it comes to vampire series and shows, movies,even book's. Please bring it back. Better yet why not offer it to Netflix. They are always picking up cancelled shows and putting it on Netflix...
Country: United States
2020-02-09 16:21:43
This show was so good, it would be amazing for it to come back!!!
Country: USA
2020-02-04 08:28:58
This show is excellent! We need more...
Country: United States
2020-02-03 22:42:52
Just started watching the series. Love it! Vickie & Henry forever. Please find a way to renew the series. Loved Moonlight as well.
Country: United States
2020-01-30 00:22:03
Please come back with Blood Ties. I love that show and Henry ha.
Country: United States of America
2020-01-24 10:53:05
While watching,"Blood Ties", I kept wondering when the character-Henry would have his feelings for Vicky- reciprocated. After realizing that wasn't going to happen, I actually started crying.
Country: United States
2020-01-21 02:03:54
Loved the TV series. Hated the way it ended. I wish there was more!
Country: United States
2020-01-19 22:11:08
Please bring back blood ties! There ate not enough shows like this.
Country: Canada
2020-01-11 20:14:02
One of the best vampires tv shows. The characters were great and the story line was amazing.
Country: usa
2019-12-28 12:27:04
Great tv show, please renew
Country: United States
2019-12-26 00:56:44
Blood Ties is such an amazing tv series and it would be very amazing for there to be a third season. Things just kinda fell undone with Henry F. Leaving the city without Vicki N. I think it would kinda be nice if Henry came back in season 3 and reconnected with Vicki, because I think they are really good together. Maybe when that demon comes back for Vicki, Henry will surely get news of it and come in as a knight in shining armor and save her as usual. Cause I dont really think her and her ex partner are gonna work out.
Country: America
2019-12-16 03:28:13
I would like to more of blood ties.l Really like the series.
Country: USA
2018-07-20 23:08:58
Blood Ties was a great series, and worthy of reviving. Please reconsider, fans are clamoring for a thinking supernatural series. This series was an enjoyable, entertaining interlude from the "usual TV fair.
Country: United States
2018-04-25 22:22:46
Please bring blood ties back one way or another Kyle schmid and Christina Cox were such a great couple and the show was awesome
Country: wales uk
2017-05-27 16:33:44
please make new episodes of bloodties
Country: United states
2016-12-14 23:29:35
I really hate cliffhangers and when you think about it the demon king got out(in the body of a priest none the less). Which is what everyone was trying to prevent from happening and on top of everything Henry and Mike just left her alone, while the demon king is still after the same thing but now he's probably a few inches from bringing damnation and "world peace" to the world. There's so many possibilities left, i would really hate for all those possibilities to go to waste. It would be a real shame if there wasn't a third season!!!
Country: united kingdom
2016-11-25 21:22:18
please renew the bloodties series as it was amazing nothing like it now miss it so much
Country: usa
2016-09-28 01:41:03
Please continue the series it was getting really good now im just left wondering..its a really good show very very disappointed thats its over
Country: England
2016-03-31 14:41:54
Please bring back bloodties I used to love it and still do now my kids are hooked I would love to see how it works between vikki and Henry they are together in the books but it's not the same please bring out a third episode.
Country: England
2016-03-28 05:38:41
Such a brilliant tv show, can't wait to see more, please continue.
Country: Kazakhstan
2016-03-19 15:11:58
"Blood ties" is a great serial! Please dont give up shoting! I hope youll finally continue the 3rd season! This serial deserves to be seen on screens!
Country: United States
2016-02-22 02:42:59
I lived the tv series and I just recently bought the blurray copy of the series,but was reminded at the end that all who loved the show were left hanging with no answer for many things. Are they planning anything a movie or can someone bring it back as a series??
Country: United States
2015-10-09 06:18:19
Please consider renewing Blood Ties. It was one of my personal favorites. I adored the actors.
Country: United States
2015-10-09 06:15:16
One of my favorite a vampire mystery which would like a season 3 to see if Vicki has come to her senses to linking romantic with either Mike or Henry. So what if they took many years break the actors Courtney, Kyle, Dylan and Gina really worked well as a team. Let's move the plot to the west coast!!!