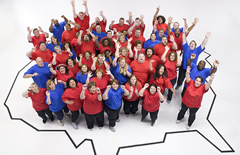 Network: NBC
Episodes: Ongoing (hour)
Seasons: Ongoing
TV show dates: October 19, 2004 — present
Series status: Has not been cancelled
Performers include: Bob Harper, Jillian Michaels, Alison Sweeney, Kelly Fields, Mark Kruger, Roger Shultz, J.D. Roth, Hollie Self, Jay Kruger, Kim Lyons, Vicky Vilcan, Caroline Rhea, Dan Evans, Heba Salama, Brittany Aberle, Maggie King, Renee Wilson, Amy Cremen, Bernardo Salazar, Michelle Augilar, Paul Marks, Coleen Skeaback, Phillip Parham, Trent Patterson, Brady Vilcan, Alison Vincent, Jackie Evans, Amy Parham, Shellay Cremen, Jennifer Widder, and Bette Sue Burkland.
TV show description:
A reality show in which overweight contestants slim down and compete to win $250,000.
Competitors are housed on a ranch, split into two teams, and are assigned a fitness trainer. Each week, the team that lostes the least amount of weight must vote one of their members out of the competition. In later weeks, contestants compete as individuals. Each episode features a temptation of some kind, a reward challenge, the weigh-in and the elimination vote.
Creator/executive director J.D. Roth has narrated and actresses Caroline Rhea and Alison Sweeney have hosted.