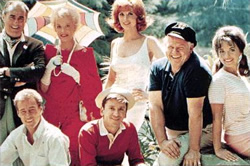 A special edition, focusing on one of the most-loved and silliest sitcoms of all time, Gilligan's Island. Take an audio journey through the show's early days, the disappointing final episode, the surprising reunions, the characters' lives after Gilligan's Island and what your favorite Gilligan actors did after the show. Stay tuned for future episodes!
Podcast: Play in new window | Download | Embed
If you're new to the world of podcasts, here's a great explanation from Wikipedia. If you want to receive future episodes, you'll need a podcast client or podcatcher. They are free to download and set up. My favorite is Juice and it's available for Windows, MacIntosh and Linux.
To receive future podcasts automatically, be sure to subscribe using this RSS feed or click here to subscribe via iTunes.