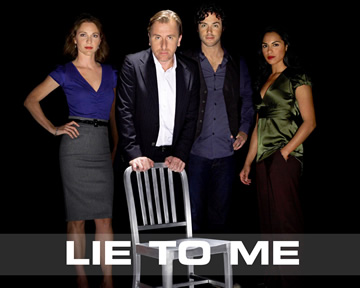 Cal Lightman (Tim Roth) and his team seek out the truth on each episode of Lie to Me. Unfortunately, the truth is that the TV show hasn't been a big hit in the ratings and could easily be cancelled by FOX.
What can you do? Remember, the ideal scenario for FOX is for many millions of people to watch the show on their television sets, while it's being broadcast. Unfortunately, ratings are put together based on a sampling of viewers. If you're a "Nielsen household," your viewing is being counted. If not, it's not.
However, if you like Lie to Me and want to see it continue, there are a few things you can do to help.
If you're a Nielsen family, watch the show whenever it's on. If not, watch it on FOX.com or purchase episodes online so your viewing will be directly counted. Encourage others to watch the show. You might know a Nielsen family and not be aware of it.
Talk about the show with others; at school, at work, online, or wherever. Creating a buzz about a show that you're invested in gets other people interested and might help bring former viewers back.
Sign the petition below and encourage others to do the same.
Write to the network. Be respectful. Everyone responds better to courtesy. Tell them how much you enjoy the show, that you've signed the petition, and that you want to see it continue. You can e-mail or, even better, write via "snail-mail" to: Mr. Kevin Reilly, President, FOX, P.O. Box 900, Beverly Hills, CA 90213-0900, RE: Lie to Me
Take note of the products that are advertised during the show. Write the advertisers and tell them that you appreciate their sponsoring the show and that you buy their products (if you do).
Check out this group of fans' efforts to save the show: SaveLietoMe.com.
---
To FOX, 20th Century Fox Television, Imagine Television, MiddKid Productions, and Samuel Baum Productions:
We, the undersigned, greatly enjoy watching Lie to Me on the FOX network. The actors, writers, and everyone associated with the TV show are top notch. This series makes you think and keeps you coming back to more because of the strong characters.
Please find a way to keep Lie to Me on the air. We are devoted viewers who will continue to watch the program, encourage others to do the same, and will support the series' advertisers as well. Please keep it going, either on FOX or, if necessary, on another channel.
Thank you for your consideration.
Country: United States of America.
2019-12-29 21:23:03
Fox! Are you out of your freaking mind? Lie to me is the best show that's been on in a very long time and the actors are absolutely amazing. Stop being a bunch of money hungry bastard and bitches and put the show back on that the people want to see not the dollar signs you want to see. And how do you know if the ratings would grow with the fourth season? This is the best show you've had in a very very very long time. Put it back on ASAP or you will find yourself boycotted by a lot of people including me. Sincerely, Rick Ferrusi
Country: South Africa
2019-12-17 12:10:06
Please bring it back
Country: South Africa
2019-12-17 12:08:29
Please bring lie to me back. I really enjoy the series and wish that you continue it. I need to see the nrw and excititing cases you come up with
Country: Russia
2019-11-28 14:31:15
I want the continue of the serial "Lie to me".
Country: United Kingdom
2019-11-25 11:00:48
Brilliant. Not like anything else on tv.
Country: United States
2019-11-20 07:45:48
"Lie To Me" is a BLOODY BRILLIANT show! I just found it on Hulu and am very disappointed that it abruptly ends... finally a thought provoking show that a family can enjoy only to be ditched. BRING it BACK! Make more! PLEASE!!
Country: USA
2019-10-14 11:18:20
Such an incredible cast and content. Finally a truly amazing story and of course, Fox cancels it. Please NETFLIX...pick up this show and watch the subscribers line up! I would truly love to see Roth and Williams back together with this awesome take on the search for truth!
Country: USA
2019-09-30 22:46:06
Wish Netflix would pick this show up!
Country: Usa
2019-09-01 17:03:50
Please bring it back! Have Netflix or Amazon pick it up for another season if needed!
Country: Serbia
2019-07-22 22:43:46
Bring back the show, it is a masterpiece.
Country: United Kingdom
2019-07-15 23:39:12
Do another series please!!!!
Country: India
2019-06-15 13:47:30
Its a wonderful series. Loved every episode, It kept me glued to the seat. I hope and pray that it continues.
Country: Uk
2019-05-27 16:24:54
Mistake!
Country: United States
2019-04-25 03:07:05
It was a shock to learn that Lie To Me was cancelled! Over 50 years of watching television programming, and here we are with so much unbelievably horrible programming that boggles the mind that it is on the air, with mindless viewers securing their ratings, that it is no mystery why intelligent educated viewers have migrated elsewhere for quality programming. We found Lie To Me, and soon thereafter the word began to travel and spread about how truly mesmerizing this Year V series is, and suddenly, the awe and shock of it abruptly ending. Cancelled? I couldn't imagine why? Did Tim Roth die? IS IT EVEN POSSIBLE FOR THIS SHOW TO RETURN TO PRODUCTION? I would that I could cast over 8 million votes in advance. Thank you for the best TV show I have ever watched, it was this good for me.
Country: United States
2019-04-08 22:22:37
It's an incredible show & should be in season 10 at this point in 2019. I watch this show daily and have finished the dearies multiple times & turkey never get tired of it .
Country: the netherlands
2019-04-08 13:41:40
This is a great show and i want to see more
Country: United Kingdom
2019-02-10 20:29:58
This was my favourite t.v. series, different, humorous and interesting. Always looked forward to the next episode. I am gutted it's been cancelled. I love it so much that I purchased the dvd box set. How can that last episode be the end? So many unanswered questions. By the way this is the first time I have ever bothered to comment on any tv series. Please, please bring it back!
Country: The Netherlands
2018-08-29 18:36:39
one of the most enjoyable series on tv! 'nough said
Country: United States
2018-08-14 20:46:43
This show means so much to me and the cancellation was a really shitty thing. Please make this right!
Country: Canada
2018-07-08 20:55:09
I love this show since learning about it, please make some more!!
Country: USA
2018-06-17 01:03:40
Bring lie to me back already.... great show!
Country: Greece
2018-06-02 05:31:54
One of the best series that combines psychology and interesting criminal cases for investigation. This show deserves it. I really want to see season 4.
Country: Netherlands
2018-05-19 21:23:30
Bring the show back!! I love it And I miss it.
Country: The Netherlands
2018-05-03 17:44:00
I need more of this show in my life!
Country: Curacao
2018-04-23 21:35:15
I am so hooked. Which episodes will I need on netflix when I have watched all of them! 🙁