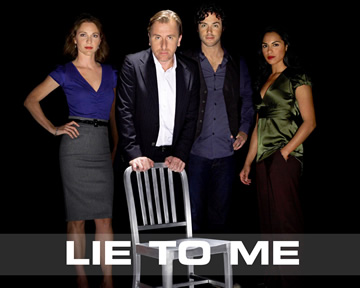 Cal Lightman (Tim Roth) and his team seek out the truth on each episode of Lie to Me. Unfortunately, the truth is that the TV show hasn't been a big hit in the ratings and could easily be cancelled by FOX.
What can you do? Remember, the ideal scenario for FOX is for many millions of people to watch the show on their television sets, while it's being broadcast. Unfortunately, ratings are put together based on a sampling of viewers. If you're a "Nielsen household," your viewing is being counted. If not, it's not.
However, if you like Lie to Me and want to see it continue, there are a few things you can do to help.
If you're a Nielsen family, watch the show whenever it's on. If not, watch it on FOX.com or purchase episodes online so your viewing will be directly counted. Encourage others to watch the show. You might know a Nielsen family and not be aware of it.
Talk about the show with others; at school, at work, online, or wherever. Creating a buzz about a show that you're invested in gets other people interested and might help bring former viewers back.
Sign the petition below and encourage others to do the same.
Write to the network. Be respectful. Everyone responds better to courtesy. Tell them how much you enjoy the show, that you've signed the petition, and that you want to see it continue. You can e-mail or, even better, write via "snail-mail" to: Mr. Kevin Reilly, President, FOX, P.O. Box 900, Beverly Hills, CA 90213-0900, RE: Lie to Me
Take note of the products that are advertised during the show. Write the advertisers and tell them that you appreciate their sponsoring the show and that you buy their products (if you do).
Check out this group of fans' efforts to save the show: SaveLietoMe.com.
---
To FOX, 20th Century Fox Television, Imagine Television, MiddKid Productions, and Samuel Baum Productions:
We, the undersigned, greatly enjoy watching Lie to Me on the FOX network. The actors, writers, and everyone associated with the TV show are top notch. This series makes you think and keeps you coming back to more because of the strong characters.
Please find a way to keep Lie to Me on the air. We are devoted viewers who will continue to watch the program, encourage others to do the same, and will support the series' advertisers as well. Please keep it going, either on FOX or, if necessary, on another channel.
Thank you for your consideration.
Country: The Netherlands
2018-08-29 18:36:39
one of the most enjoyable series on tv! 'nough said
Country: United States
2018-08-14 20:46:43
This show means so much to me and the cancellation was a really shitty thing. Please make this right!
Country: Canada
2018-07-08 20:55:09
I love this show since learning about it, please make some more!!
Country: USA
2018-06-17 01:03:40
Bring lie to me back already.... great show!
Country: Greece
2018-06-02 05:31:54
One of the best series that combines psychology and interesting criminal cases for investigation. This show deserves it. I really want to see season 4.
Country: Netherlands
2018-05-19 21:23:30
Bring the show back!! I love it And I miss it.
Country: The Netherlands
2018-05-03 17:44:00
I need more of this show in my life!
Country: Curacao
2018-04-23 21:35:15
I am so hooked. Which episodes will I need on netflix when I have watched all of them! 🙁
Country: USA
2018-03-11 18:18:23
Bring it back. Please. I have watched it on netflix over a hundred times.
Country: United States of America!!!
2018-02-18 05:10:09
Lie to me....great show!! Please bring it back!
Country: Australia
2018-02-01 08:04:32
I love the show lie to me. Please renew it
Country: Canada
2017-10-24 15:20:58
It's a shame the show was cancelled after just 3 seasons. The show was original, very well acted, and believable. Todays viewers likely PVR their shows and watch at their leisure leaving networks hard pressed in determining true viewership. I hope they bring it back in 2018, even if its just for one more season so the internal storylines can be brought to a close.
Country: Canada
2017-10-08 14:42:42
Lie to Me was the greatest show ever made! The cast is brilliant, and the story! It was seriously true art!
Country: USA
2017-09-05 15:01:36
I watched Lie to Me back when it was on Fox and I'm rewatching it now that it's on Netflix! It's a wonderful show and the characters were well done. I would have loved to see more seasons. If the actors were up for it, bring it back!!!
Country: France
2017-08-25 15:59:34
Please... this show was so cool. Characters still have a story to live ! Cal is a frustrating guy but I want to believe he will finally find his way !! Please don't let the story end here...
Country: Indonesia
2017-08-05 00:18:35
bring back Lie to Me pls
Country: USA
2017-04-30 22:56:44
This is a show worth watching and worth renewing for another season.
Country: Canada
2017-04-18 22:40:18
Lie to me is the best series I ever watched. The actors were amazing, the plot was very well thought and I just fell in love with this show. It broke my heart when I saw that you cancelled the show due to a low amount of viewers. But its not the quantity of fans that matter, it's their loyalty. Fuck Fox network. Viva la vida Lightman.
Country: USA
2017-03-28 20:52:14
I love Lie to me!!!!! would love to see a season 4 and more. this show is very well done and the cast have an incredible dynamic together. please make more shows!
Country: USA
2017-03-28 14:34:11
Bring this awesome show back!!
Country: Canada
2017-03-22 16:36:57
Best show every, very original. A real shame this show was cancelled, I don't know anyone who watched it that did not LOVE it! I hope you will reconsider but probably the cast is long dispersed by now, so sad.
Country: Australia
2017-03-18 09:35:08
I believe that Lie to Me was something completely different then everything else we see on television. The writing was great and by the start of Season 2 I found my self catching the micro expressions before the actors mentioned them. The cast was wonderful and Tim Roth bought a certain level of respect and professionalism to the role that was needed. Every actor played their part well. On the short pole 97 percent of people that voted had voted to keep it going. With public networks not being the only way to watch these show because of new technology it is hard to ascertain a full network rating on the show. I am certain there are a lot of people that started watching the show after it was cancelled and disappointed that it ended. I suggest Fox brings it on for Season 4 and test the ratings against Season 3 to see if it drops or spikes. On a side note, I am from Australia and you can not gain full ratings from just one country and decide that the ratings are low.
Country: USA
2017-03-06 16:22:03
I'm a busy mom and don't have time to watch prime time television, however, I listen to recommendations of my friends and associates. This is how I found out about the TV series "Lie to Me." I watched all 3 seasons on Netflix, sometimes in marathon viewing sessions. Please bring the series back. It had great characters and situations. The writing was great. There are few shows today with great writing and you just cancelled one of those that I count as the few. PLEASE PRODUCE SEASON 4.
Country: United States
2017-02-23 10:09:30
I loved this show it had drama and it was funny too please bring it back
Country: United States
2017-01-27 21:49:23
I want the show back! Please! You left on a good cliff hanger and I love the cast!