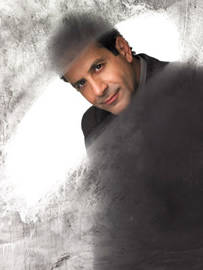 After eight seasons on the USA Network, Adrian Monk will soon solve his last case. The TV show's ratings are still very good but, for a variety of reasons, it's been decided to bring the series to a close. By the end of the show's run, it sounds like Monk will have finally solved the case of his wife's killer.
But, is it really time for Monk to go to television heaven or should his crazy adventures continue in some way? After all, millions and millions of people enjoy watching the character's exploits each week. Couldn't he return for a few more cases — maybe a handful of episodes, television movies, or even a spin-off of some kind?
If you'd like to see Monk continue in some form, here are a few things you can do:
Tell your friends and family members to tune in and watch on USA. If that's not possible, encourage them to watch online. Maybe one of them is secretly a "Nielsen family" or knows one.
Write to USA Network and/or call (212) 664-4444 and ask to leave a message on the USA comment line. Let the network know how you feel but, keep it civil. Everyone responds best to courtesy.
Sign the petition below and let the network execs know you've signed it. Spread the word and ask others to do the same. Oh, and be sure to keep it clean.
---
To: ABC Studios, Mandeville Films, Universal Cable Productions, and USA Network
We, the undersigned, have greatly enjoyed watching the Monk TV show on USA Network. The series is far too unique, clever, and humorous to end. It's also a program that the whole family can enjoy and there are far too few of them.
We are truly upset to hear that this successful show is coming to an end and don't want to say goodbye just yet. Please consider continuing Monk's adventures in some way — perhaps in TV movies, in a spin-off, or even in additional episodes. We are just a few of the many, many loyal viewers who are waiting to see what happens to next to this fascinating, germophobic detective.
Thank you for your consideration.
Country: USA
2020-06-27 01:46:31
In 2020 COVID world I think there is PLENTY SCRIPT to be written for MONK with the origianl one and only MR.MONK!! PLEASE BRING HIM BACK WE NEED HIS QUIRKINESS NOW MORE THAN EVER!!!
Country: usa
2020-05-29 01:49:11
want monk back sooooo bad, please bring him back.
Country: United States
2020-05-09 18:12:14
Please bring back Monk as a movie or better yet as a TV series again!!!! I LOVE this show - the characters, the relationships, Monk's big heart and OCD - I love it all. It is a warm show that brings a joy to my week!
Country: USA
2020-03-17 17:53:37
There are SO many MONK fans out here! Please bring back this wonderful character in some fashion - movie perhaps.
Country: US
2019-06-11 14:36:38
Bring back Monk. We miss him. Love him. No one can replace him. We need the real thing. Adrian Monk helps everyone solve problems and feel better.
Country: Hungary
2019-04-17 14:11:47
♥️
Country: USA
2019-02-21 14:07:37
It is a crime to cancel Monk. Let's re-start the Monk, so Mr.Monk can help us all!
Country: United States
2019-01-22 10:39:24
Love Monk!!! Just finished watching ALL 8 seasons AGAIN!!!! Please bring it back!!!! Loved the entire cast!!!!!!
Country: US
2018-11-23 21:15:47
I was rather late in discovering "Mr MOnk " series. I have enjoyed watch these shows. When they played the reruns on WE TV sunday afternoon through early evening I made it a point to catch all of them and sometimes chose not to go out to dinner. I don't even care if they are reruns. Good to have a decent show on tv no bad language and trash that you see on many other programs. PLEASE BRING IT BACK!!!!
Country: USA
2018-11-11 20:27:17
It would be great if somebody picked Monk back up
Country: USA
2018-11-09 21:30:34
Please please please bring back MONK..my favorite show.. miss it so much.
Country: USA
2018-05-14 13:05:04
I want the Monk TV Show to Continue.
Country: Us
2018-03-10 20:59:43
I love the show it was so well written. Tony Shalloub is amazing and I can identify will all his idiosyncrasies, phobias etc. The garbage that's on TV now is seriously pathetic. They need to bring the show back for those of us who enjoy well evolved dynamic suspenseful shows. Please for the love of all that's good. You'll thank me later!
Country: United States
2018-03-05 15:03:36
Best show, period. Please bring it back...a movie or something.
Country: USA
2017-11-18 20:59:30
Please bring back the MONK SHOW. It has been my only favorite show on TV. I never missed this showe ever. I am 77 years old and I don't get tired watching the show everyday, reruns, etc. PLEASE BRING BACK THE MONK SHOW ON TV. CORA NIELSEN
Country: USA
2017-08-14 19:42:54
MONK is a show in its own category! Get it back on TV. The actors are great in their own portrayals, and Mr. Shalhoub's performance of such a "difficult to do" character surpasses expectations and more. Consider bringing the program back! Young adults as well as other age groups do watch the re-runs, and I hear comments on it.
Country: USA
2017-01-21 23:30:56
Please bring back monk. There is nothing on tv that comes close.
Country: United States
2016-11-25 16:44:50
Bring back Monk. I binged all the episodes. Maybe even a TV movie like what they did with Peter Falk and Columbo where they had a TV movie every once in a while.
Country: United States
2016-08-29 10:56:53
Bring Monk back. Bring Monk reruns back, ION used to run marathon Friday afternoon and Saturday afternoon and night. Monk adds an atmosphere, ambiance to look forward. I can't begin to tell you how much the program is missed. I wonder what's wrong with people selecting the available programming because the choices are horrendous. Please put Monk in the lineup.
Country: USA
2016-07-10 19:31:16
Monk is my all-time favorite show. I can't pinpoint exactly what it is that has me so obsessed but I can't sleep at night without playing an episode on Amazon. Please, please bring monk back.
Country: US
2016-06-25 10:30:12
There is very little worth watching on television now (2016 June). PLEASE either bring back MONK reruns (to all of us who pay far too much money for worthless TV) or begin a new series that involves ADRIAN MONK.
Country: United States
2016-05-12 16:36:03
I feel as though I am having serious withdrawls. Monk has been off the air for sometime now, but everyday I check to see if re-runs are airing. Please air re-runs of Monk or give the ability to watch on Netflix.
Country: USA
2016-04-21 21:08:03
We need the return of MONK.
Country: usa
2016-04-04 22:23:06
We must have another chance to see Monk in action. Please make our dream come true
Country: Australia
2016-03-25 18:20:29
Favourite show of all tine. I just love the humour and Monk's obsessions/phobias. I continually run my box set to ensure I get my Monk fix. I would love to see a movie because the ending of the series was so well done, you couldn't spill that. Please, please bring back Monk for the diehard fans. Thank you Sue