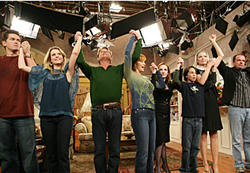 Though Reba was the most popular sitcom on the CW network, the series was cancelled after six seasons and 125 episodes.
Many fans still love to watch spunky Reba Hart and her crazy family and would like to see the series revived. You too?
---
To: Twentieth Century Fox Television and Acme Productions
We, the undersigned, have really enjoyed the Reba comedy series and were greatly saddened by its cancellation. Reba is one of the few modern sitcoms that a family could watch and enjoy together.
We ask that you reconsider the cancellation and revive the series with the original cast or find a way to continue the characters and story in some new way. We are convinced that there is still a market for this type of quality family programming.
Thank you for your consideration.

Country: US
2018-11-21 22:01:31
Best show ever. It needs to come back.
Country: united states
2018-10-17 20:39:33
Please revive! This show feels my heart!
Country: USA
2018-07-22 19:56:37
Would love to see Reba back on the tv with all the cast❤️
Country: USA
2018-06-27 07:33:38
Please bring Reba back. It was a great show. Of course the kids will be grown but that was the same with the kids on Roseann. Thanks Deb Hulley
Country: USA
2018-03-14 13:16:08
There is absolutely nothing decent on TV this day and time as far as good comedy shows go, so therefore, I set my DVR daily to record Reba's shows. I must know the words to each episode and laugh during each show. I can relate to all of the things Reba had gone through with Brock, raising her three children and of course the wonderful BJ. I have seen Reba in concerts in Vegas, Rodeo's and now in her sitcoms. She is one talented red head who needs to come back to her show. Please bring back "REBA", her family and laughter to television.
Country: America
2018-03-09 02:41:08
Absolutely love this show! I want it to come back! Same actors and same way they made it so real, had you wanting more!
Country: Usa
2017-10-27 18:20:31
I Love Reba because it is such a great family truth about what truly happens in a household in this century! It is funny which is why I watch the reruns every single day! I would be so happy to see it come back on tv in some way!
Country: USA
2017-09-25 22:00:31
Out of all the reboots that have been coming out this one needs to be one of those reboots! Seriously this show was amazing, funny, heartfelt, and HELLO the main star is Reba!
Country: USA
2017-07-07 18:04:47
Please bring back this show! There is nothing good on TV anymore. And I find myself watching reruns of Reba on tv and I cannot get enough.
Country: USA
2017-03-30 04:23:19
Best show ever!!
Country: USA
2017-01-07 20:29:35
Bring back the Reba show everybody I know watched it.
Country: United States of America
2016-12-02 03:08:10
Please bring back "Reba" TV show. It is the funniest and well written show I have ever seen, I watch it's reruns everyday, and each day I wish it would come back on. The same cast would have to be on it. Please put it back on the air. I just love it. The cast was wonderful. Each character had unique qualities. The actors were great actors.
Country: USA
2016-10-16 12:01:09
Love the show. It should have never been canceled. There are shows that go way too long that shouldn't. Reba should still be airing episodes to this day.
Country: United States
2016-08-27 16:47:17
I watch reruns and so does my mom. I crack up it just is simply the BEST!! Please bring back a revamp.
Country: United States
2016-08-02 07:19:39
Watch reruns everyday! Can't get enough of that show!
Country: United States
2016-07-07 19:15:53
Bring it back!!
Country: USA
2016-05-30 17:59:37
Love Reba watch the reruns everyday! Would be awesome to have a come back with the original cast members!
Country: Usa
2016-05-30 06:29:21
Bring it back! Best show ever
Country: USA
2016-04-25 16:57:53
I loved this show bring it back PLEASE
Country: usa
2016-04-04 15:41:08
Please bring back original cast and use same format. It would be so interesting to see what happened to everyone. Watch rewind all time.
Country: Us
2016-03-25 20:56:47
Bring back reba's sitcom
Country: usa
2016-03-19 14:19:31
BRING BACK REBA
Country: USA
2016-03-19 12:30:04
please revive the show. it was a breath of fresh air. WE WANT REBA, WE WANT REBA
Country: usa
2016-03-13 16:37:17
I love reba
Country: USA
2016-03-09 23:45:48
Dear God bring it back