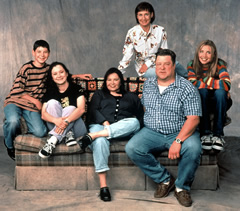 Network: ABC
Episodes: 222 (half-hour)
Seasons: Nine
Show dates:
October 18, 1988 — May 20, 1997
Show status: Cancelled/ended
Performers include: Roseanne Barr, Sara Chalke, Michael Fishman, Sara Gilbert, John Goodman, Lecy Goranson, Laurie Metcalf, and Natalie West.
Series Description:
This sitcom follows the story of working class couple Dan and Roseanne Conner (John Goodman and Roseanne Barr) and their children Becky (Lecy Goranson and later, Sarah Chalke), Darlene (Sara Gilbert), and David Jacob 'D.J.' (Michael Fishman).
Other family members and friends include Roseanne's sister Jackie (Laurie Metcalf), mother Beverly 'Bev' Harris (Estelle Parsons), friends Nancy Bartlett and Crystal Anderson (Sandra Bernhard and Natalie West), boss Leon Carp (Martin Mull), Becky's boyfriend/husband Mark Healy (Glenn Quinn), and Darlene's boyfriend/husband David Healy (Johnny Galecki).
Series Finale:
Episode 221 & 222 – Into That Good Night (part one & two)
David and Darlene's premature daughter finally comes home from the hospital. Darlene decides to stay at the house for awhile and Roseanne wants them to stay forever. Mark and Becky are now expecting a child as well but Becky doesn't want to tell anyone just yet, to let the day be about Darlene.
After each of the characters talks to the new baby, the family talks about life after winning the lottery. Leon and Scott (Martin Mull and Fred Willard) announce they will be adopting a little orphan girl named Nadia.
As the family and friends eat Chinese food, Roseanne reflects about her life via voiceover. The scene switches to Roseanne sitting in her basement writing room. It's revealed that the show has really been her writing.
While the book has been basically autobiographical, she changed what she didn't like. In reality, Dan actually died from his heart attack, her sister Jackie was gay instead of her mother Bev, Mark married Darlene, and Becky married David.
In the show's final moments, Roseanne goes upstairs and sits on the couch to watch TV. A quote by T.E. Lawrence appears onscreen, we hear her trademark laugh one last time and the screen fades to black.
First aired: May 20, 1997.
What happened next?
There's been no news of any plans to revive the series or characters. Members of the cast have reunited however on several occasions. On the November 20, 1998 episode of
The Roseanne Show
, Chalke, Fishman, Galecki, Goodman, Matcalf, Mull, Willard, and Roseanne were present while Gilbert appeared via remote. Several castmembers were interviewed by Larry King on October 7, 2005 and most of the cast reunited for the
TV Land Awards
in June 2008. Find out what they've been up to by going
here
and
here
.
Behind the Scenes
•
The last episode was viewed by over 16.5 million people. The title refers to Dylan Thomas' poem Do Not Go Gentle Into That Good Night.
•
Roseanne was in the top 10 most watched series for seasons one through seven, was #16 for season eight and finished as #35 for season nine
•
Musician Phoebe Snow sings the theme song at the end of episode.
•
The T.E. Lawrence (Lawrence of Arabia) quote that ends the series: "Those who dream by night in the dusty recesses of their minds wake in the day to find that it was vanity: but the dreamers of the day are dangerous men, for they may act their dreams with open eyes, to make it possible."
•
In 2006, Barr reflected on the series finale and said, "The Roseanne sitcom was based on my real life; I was suicidal and broken when I gathered all that was left of myself and wrote five minutes of jokes, which became an act, and ultimately the Roseanne show. As we leave our protagonist in her living room, completion of her book just managed, she will have a quiet moment alone to think, before she throws the windows and the doors open and steps out into the world to make feminist television history, much as I did."