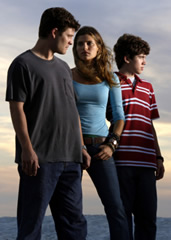 The sci-fi series Surface ran for just one short season of 15 episodes on NBC.
The show attracted a lot of fans who couldn't wait to see how the story would be resolved. Unfortunately, the series was prematurely cancelled and several plotlines were left hanging. Who survived the tsunami? Will we ever know?
---
To: NBC and Universal Media Studios
We, the undersigned, have faithfully followed the science-fiction series Surface. We were shocked and upset when the series was cancelled and the exciting storylines were left unresolved.
We ask that you find some way to bring the Surface story to a proper conclusion — preferably as a weekly series or as a TV or direct-to-DVD movie. At the very least, please publish a companion book to the series that would detail the story's resolution. We are convinced that there is still a great market for this show.
Thank you for your consideration.

Country: United States
2020-10-13 20:25:49
Would love to know where this unique story was going
Country: United States of America
2020-04-17 05:39:12
This show really had a lot of good imagination, and what people wish they could find in real life. You something else that's out there that know one has ever seen. Know one knows what is really in the bottom of the ocean. Whether there are ancient creatures or even something from another world. It was really nice to have a show with fantasy. So we as fans could fantasize about things we wish were real. I really loved the show. Could you please bring it back. Shoot make it a Netflix series, or even a movie. Yeah just can't leave us hanging with the cliff hanger ending.
Country: United States
2020-04-06 16:35:39
Indeed, I need to know what happened? Did the sea creatures eat everyone? Or did the Navy kill them!?
Country: Norway
2020-02-16 15:17:48
I loved this TV show. It's been on my mind for 12years now! Just showed it to my girlfriend, she loved it to! Alot of my friends loved it too! Please start a fund raiser or something to bring it back! Shouldn't be hard considering the amount of crap beeing produced these days! Thank you, I keep dreaming of the day I get to see the season 2 announcement, or aliens and end of world poverty!❤️
Country: United States
2019-11-29 15:44:30
Please do a mini series or a movie on the final outcome of Surface.
Country: USA
2019-11-25 18:12:35
Please please please ♥️ bring back the show Surface!! I have to know what happens next!! Thank you!!
Country: America
2019-08-09 12:30:45
Please finish the series, it is really really good
Country: Glendale CA
2019-06-02 05:36:39
My name is Chris Clubb , I have been reading , all the posts of every comment that there is , and I agree with everyone , we aren't alone as fans , we should have shindigs , or get a group together , and we should all work together , and create the stores that we would , and could do together , I am dying to hear from all the fans , if the "FIREFLY", fans could do right , why can't we , so we can meet , if there are fans out that live in Glendale CA , give me a call , I have many contact in Hollywood that will be willing to hear from us , so please follow your hearts , and dreams to make this happen today , thank you very much for reading , my posts or comments , tha tyou very much Chris Clubb
Country: Jamaica
2019-02-27 19:15:33
SIGH!!! PLZ BRING IT BACK!!!!!!!! I WANT SURFACE... Every once in awhile I will check on the web to just "hope" that there is something new. I am even willing to READ THE BOOK... Write the book if no one will support the show.. After a few years of best seller the "movie/series" will come back. Seriously I watched this when it first aired and I never missed an episode. I was always left on edge and to this day so many years upon years after I am still craving the ending.
Country: United States
2019-01-27 17:47:21
Huge fan of the show and would love a reboot!
Country: usa
2018-12-16 10:40:47
When they cancelled this show, I was so mad I cancelled my cable subscription. If they bring this back, I'll renew it.
Country: United Statea
2018-10-11 14:41:14
Finish the series Surface Please !
Country: Earth
2018-08-09 17:31:08
Actors all grown, but a new cast could follow the story which was excellent creature scifi! Come on and finish the story for us, was miles going to become aquaman? Did the underground rail system go to the underground city? Were the creatures designed to terra form the planet? Or to have healing properties that could help people?
Country: USA
2018-07-21 13:20:43
This was an amazing series and I would love to see a true conclusion and maybe more to the story if they would, please bring surface back!!!
Country: United States of America
2018-04-20 16:54:15
Please bring this back. I really want to see what happens. It's probably a long shot but it's with a shot
Country: Canada
2018-03-03 01:01:04
it has been several years and i still think about this series.
Country: USA
2018-01-19 19:28:51
Please finish the Surface Series! I enjoyed it emensley and am so disappointed not to find another series to see what happens and how it ends!
Country: US
2018-01-18 00:02:22
Please finsh this series with a movie, comic book, graphic novel, animated movie or anything!
Country: NY
2018-01-15 19:46:11
S2
Country: United States
2017-12-29 17:40:40
a truely sad way to end a great tv show... even firefly and farscape did a movie for a final...smh
Country: United States
2017-10-26 23:59:56
Bring the show back for at least another 2 seasons or sell the idea at least to someone else. This show was great and got great reviews but yet cancelled?
Country: United States
2017-09-19 22:09:17
Why were we left hanging,would love to see ending.
Country: USA
2017-07-06 20:07:58
Finish it in a movie.
Country: usa
2017-06-29 17:51:31
bring back or finish it in a movie!
Country: USA
2017-06-29 17:50:40
yes!!!!!!!