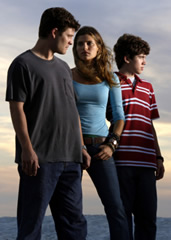 The sci-fi series Surface ran for just one short season of 15 episodes on NBC.
The show attracted a lot of fans who couldn't wait to see how the story would be resolved. Unfortunately, the series was prematurely cancelled and several plotlines were left hanging. Who survived the tsunami? Will we ever know?
---
To: NBC and Universal Media Studios
We, the undersigned, have faithfully followed the science-fiction series Surface. We were shocked and upset when the series was cancelled and the exciting storylines were left unresolved.
We ask that you find some way to bring the Surface story to a proper conclusion — preferably as a weekly series or as a TV or direct-to-DVD movie. At the very least, please publish a companion book to the series that would detail the story's resolution. We are convinced that there is still a great market for this show.
Thank you for your consideration.

Country: United States of America
2018-04-20 16:54:15
Please bring this back. I really want to see what happens. It's probably a long shot but it's with a shot
Country: Canada
2018-03-03 01:01:04
it has been several years and i still think about this series.
Country: USA
2018-01-19 19:28:51
Please finish the Surface Series! I enjoyed it emensley and am so disappointed not to find another series to see what happens and how it ends!
Country: US
2018-01-18 00:02:22
Please finsh this series with a movie, comic book, graphic novel, animated movie or anything!
Country: NY
2018-01-15 19:46:11
S2
Country: United States
2017-12-29 17:40:40
a truely sad way to end a great tv show... even firefly and farscape did a movie for a final...smh
Country: United States
2017-10-26 23:59:56
Bring the show back for at least another 2 seasons or sell the idea at least to someone else. This show was great and got great reviews but yet cancelled?
Country: United States
2017-09-19 22:09:17
Why were we left hanging,would love to see ending.
Country: USA
2017-07-06 20:07:58
Finish it in a movie.
Country: usa
2017-06-29 17:51:31
bring back or finish it in a movie!
Country: USA
2017-06-29 17:50:40
yes!!!!!!!
Country: USA
2017-06-10 12:26:19
The show was great it deserves a great ending.
Country: United Kingdom
2017-03-03 16:09:44
I loved this show, it was brilliant and the storylines were great. I was very sad with how it ended and wanted it to carry on. Not sure why it was cancelled prematurely but would love to see it again perhaps on Netflix. Thanks
Country: United States
2016-12-31 13:29:06
I started watching this show with my mom and we want to see what happens to everybody, including the adorable Nimrod (Nimmy).
Country: USA
2016-12-24 12:46:31
I was watched the show faithfully the first time and again on Netflix. Why not let Netflix take it over and finish it up properly.
Country: united states
2016-11-19 11:50:05
Continue it please why put up on Netflix if it isn't even continuing why did I have to watch to be left with cliff hanger
Country: New Zealand
2016-10-15 16:33:12
Please finish the story. It is like buying a book with the final chapter missing!
Country: USA
2016-10-07 01:39:29
I just binged watched Surface on Netflix. I too would like an episode or two more even if the actors are 10 years older to bring resolution to the story.
Country: Switzerland
2016-10-05 05:53:58
The first really interesting series in a long time. Really want to know what happens next. Can't understand why such a promising series was cancelled.
Country: United States
2016-10-02 00:59:43
Thanks to netflix I was able to binge watch the show. It's by far one of the best Sci fi shows ive ever seen. It would be great to get this show back on. Amazing story line and great actors and actresses.
Country: United States
2016-09-16 18:06:04
I loved the series and was very much looking forward to new seasons. It was fascinating as well as surprising, compared to some of the trash that is on tv now. I don't think I can stomach another singing show or bachelor.
Country: USA
2016-09-13 12:26:41
Please finish the series.
Country: USA
2016-09-07 23:30:18
please finish the series.
Country: USA
2016-09-05 14:32:51
Keep continue tv show its really good story and i want know what's next happen. Keep going make episodes or season 2.
Country: USA
2016-08-18 20:00:38
Why do you cancel GOOD shows and keep the crap going for years? You people are really in need of finding out what viewers like.................