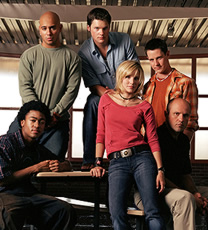 Network: UPN, The CW
Episodes: 64 (hour)
Seasons: Three
TV show dates: September 22, 2004 — May 22, 2007
Series status: Cancelled/ended
Performers include: Kristen Bell, Percy Daggs III, Jason Dohring, Francis Capra, Enrico Colantoni, Ryan Hansen, Teddy Dunn, Michael Muhney, Tina Majorino, Brandon Hillock, Kyle Gallner, Tessa Thompson, Julie Gonzalo, Chris Lowell, Daran Norris, Duane Daniels, Harry Hamlin, Amanda Seyfried, Lisa Thornhill, Max Greenfield, Charisma Carpenter, Alona Tal, Ken Marino, Kyle Secor, Brad Bufanda, Patrick Wolff, Linda Castro, Christopher B. Duncan, and Amanda Noret.
TV show description:
Set in the fictional California seaside town of Neptune, this drama tells the story of high-school student and amateur investigator Veronica Mars (Kristen Bell).
The series begins in the aftermath of the death of Veronica's best friend, Lily Kane (Amanda Seyfried). Lily's mysterious death caused many aspects of Veronica's life to come apart.
Her father Keith (Enrico Colantoni) accused Lily's father (Kyle Sekor) of being responsible which resulted in Sheriff Mars losing his job in a recall election. Veronica's mother (Corinne Bohrer) began drinking heavily and abruptly abandoned the family and Veronica became ostracized from her popular friends including Lily's boyfriend Logan Echolls (Jason Dohring).
Father and daughter open Mars Investigations and Veronica makes some unlikely friends. The new allies include new student Wallace Fennel (Percy Daggs III); Latino biker Eli "Weevil" Navarro (Francis Capra), and computer genius Cindy "Mac" Mackenzie (Tina Majorino).
Series Finale:
Episode 64 – The Bitch is Back
Furious that Logan attacked Piz (Chris Lowell), Veronica tells Logan that she wants nothing to do with him. Parker (Julie Gonzalo) confronts Logan about his still having feelings for Veronica, while Piz assures Veronica that he had nothing to do with the sex video.
With the help of Weevil, Veronica investigates the tape's origin. She discovers that Jake Kane is linked to The Castle and pays him a visit. Charges have been brought against Sheriff Mars for his allowing Veronica to escape which makes his election prospects look bleak.
The series ends with Veronica looking forward to spending the summer at the FBI Academy.
First aired: May 22, 2007.
What happened next?
When the show was cancelled in May 2007, CW executive Dawn Ostroff suggested that
Mars
creator Rob Thomas and Bell might do a new project for the network. It was unclear if the project would be related to
Veronica Mars
or not. Thomas subsequently said that it was news to him and Ostroff has not mentioned it again.

Shortly thereafter, Thomas expressed interest in continuing
Veronica Mars
as either a feature film or in a series of comic books (in a similar vein to Joss Whedon's
Buffy the Vampire Slayer
comic series). Thomas has met with DC Comics about the project.
Behind the Scenes
•
The title of the last episode, "The Bitch is Back," refers to a popular Elton John song. The episode was completed before the CW cancelled the series and was not intended to be a series finale.
•
In an attempt to save the series from cancellation, Thomas proposed a new scenario for season four. The series would flash-forward four years into the future and follow the exploits of Veronica as a new FBI agent. A 10 minute "pilot" was filmed but failed to interest the network and Veronica Mars was cancelled. The "pilot" can be seen on the Season Three DVD set.
•
The series was never a ratings success and was in danger of cancellation each year. Though modest in numbers, the fans of the show were particularly creative and vigilant in their efforts to keep the show on the air and to grow its audience. Their efforts included nationwide flyer campaigns, flying a plane and banner above network offices after packages with binoculars were delivered to key executives, donating Veronica Mars DVD sets to dozens of libraries (particularly in major Nielson markets), and more. Joss Whedon and Kevin Smith were both admirers of the show and encouraged their fans to help save it.
•
Bell and Colantoni are the only two actors to appear in every episode.