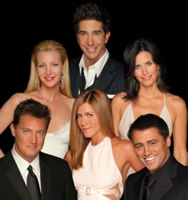 Network: NBC
Episodes: 238 (half-hour), 10 seasons
Show dates:
September 22, 1994 — May 6, 2004
Performers include: Jennifer Aniston, Courteney Cox Arquette, Lisa Kudrow, Matt LeBlanc, Matthew Perry, and David Schwimmer.
Series Description:
A very popular sitcom about six twenty-something friends in New York City as they find their way through life. The friends include brother and sister Ross (David Schwimmer) and Monica Geller (Courteney Cox Arquette). Ross is a paleontologist with low self-esteem and Monica is a neat-freak and chef. Ross' old college roommate is sarcastic Chandler (Matthew Perry), who lives with not-very-bright struggling actor Joey Tribbiani (Matt LeBlanc). They are friends with eccentric free-spirit Phoebe Buffay (Lisa Kudrow). In the series pilot, spoiled rich girl Rachel Green (Jennifer Aniston) leaves her fiance at the alter and moves in with her old friend Monica.
Series Finale:     
Episodes 237 & 238 – The Last One: Monica and Chandler make an urgent trip to the hospital and get a big surprise. Rachel heads to the airport to catch her flight to Paris. Ross realizes his feelings and goes after her with Phoebe in tow. Joey finds the perfect housewarming gift.
Read the long version: part one and part two.
What happened next?   
The spin-off Joey debuted on September 9, 2004 in the Friends timeslot and followed the exploits of Matt LeBlanc's Joey Tribbiani after he moved to Los Angeles. The show was cancelled midway through the second season due to low ratings.
A framed picture of Joey and Chandler can be seen on Joey's refrigerator and Friends characters were mentioned on the spin-off but, they never appeared in person. LeBlanc has said that, had the series continued, his former castmates probably would have made cameos. Actor Robert Costanzo did however play Joey's father on both series. He was the only actor (other than LeBlanc) to appear on both series as the same character.
Several cast members have expressed a passing interest in doing a Friends reunion (perhaps centered around a Thanksgiving gathering) but it has not happened yet.
Behind the Scenes   
NBC wanted to continue with the highly-rated series but the cast wasn't interested in doing an 11th season. Prior to the finale, the network aired a one-hour retrospective episode called "The One with All The Other Ones." It featured a variety of clips from the series' 10 years and attracted almost 37 million viewers. The cast appeared on The Tonight Show with Jay Leno later in the evening.
At the start of the sixth season, the opening credits feature Courteney Cox Arquette's new married name. As a joke, all of the cast members and series' creators have "Arquette" added to the end of their names.
Phoebe's twin sister Ursula (also played by Kudrow) first appeared on the sitcom Mad About You as a waitress. Friends' creators did not originally intend for Phoebe to have a twin, but wrote Ursula into the show to explain why Kudrow was appearing on two different shows on NBC's Thursday night line-up.
The show was known for its close-knit cast. The six main actors made deliberate efforts to maintain the show's ensemble format and were unified in contract negotiations. All six appeared in every episode of the series.