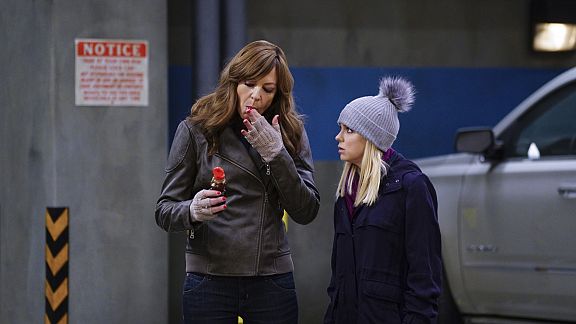 CBS is sticking with Mom. Today, the network announced they've renewed the sitcom for a fourth season, which will air during the 2016-2017 season.
Mom stars Anna Faris and Allison Janney as a daughter and mother both dealing with addiction and each other. The series also stars Matt L. Jones, Sadie Calvano, Garrett Rosenthal, French Stewart, and Jaime Pressly.
Though not as successful as Chuck Lorre's other CBS sitcoms, Mom is still performing decently in the ratings well into its third season. So far, the current season has earned an average of 7.9 million viewers and a 1.71 rating in the 18-49 demo. Compared to last season, that's about a 20% decrease.
Today, the network announced 2016-17 season renewals of 10 other shows as well — 2 Broke Girls, The Amazing Race, Blue Bloods, Elementary, Hawaii Five-0, Madam Secretary, Mom, NCIS: Los Angeles, NCIS: New Orleans, Scorpion, and Survivor.
What do you think? Do you watch Mom? How many more seasons of the sitcom would you like to see?