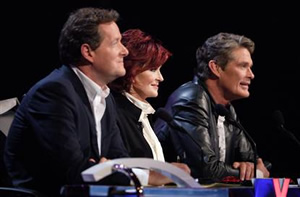 Network: NBC
Episodes: Ongoing (1-2 hours)
Seasons: Ongoing
TV show dates: June 21, 2006 — present
Series status: Has not been cancelled
Performers include: Howard Stern, Howie Mandell, Sharon Osbourne, Piers Morgan, David Hasselhoff, and Brandy Norwood (judges). Nick Cannon, Regis Philbin, and Jerry Springer (hosts).
TV show description:
American Idol's Simon Cowell created this show and judges the UK version, Britain's Got Talent, but does not judge this US version due to contractual obligations.
The judging panel is made up of journalist Piers Morgan, actor/comic Howie Mandell, and reality maven Sharon Osbourne. Mandell replaced actor/singer David Hasselhoff and Osbourne replaced singer Brandy Norwood after the first season. It's hosted by actor/rapper Nick Cannon, with Regis Philbin and Jerry Springer previously filling those shoes.
Acts for this program include singers, dancers, comedians, magicians, and more. After a pre-audition process (unseen by the television audience), performers audition in front of an audience and the three judges. Each judge has a buzzer they can hit to stop the act if they don't enjoy it, often with the audience egging them on. If all three judges hit their buzzers, the act has to stop. Whether they are stopped or are allowed to continue to the end, they are judged by the panel and it's determined if they'll be allowed to continue with the show and appear in Las Vegas callbacks.
The forty-eight acts that make it to Las Vegas perform again for the judges in four groups of twelve, with each group having a week to perform. The five best acts from each group move on and become the semi-finalists. The first four to move on in each group is decided solely by home viewer voting. The two acts that come in fifth and sixth by the viewers then go before the judges who decide which act will become the fifth of that group.
In the semi-finals, the acts perform in groups of ten. Viewer votes and the judges then pair them down to ten finalists who perform yet again to choose a winner. The winner of the show goes on to receive a $1 million cash prize and a headlining show in Las Vegas.