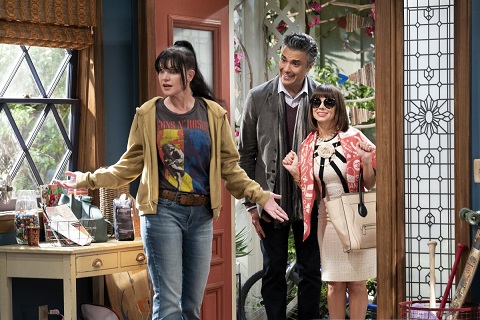 "You guys are unbelievable!" CBS just released a new preview for their upcoming TV show, Broke.
The sitcom follows a wealthy trust fund baby who, when he is cut off, moves with his wife "into her estranged sister's Reseda home, forcing the two siblings to reconnect." The cast also includes Jaime Camil and Natasha Leggero.
Broke is slated to debut on CBS during the 2019-20 season.
Take a first look and read more info below:
Jaime Camil and Pauley Perrette star in BROKE, a comedy about Jackie (Perrette), a single suburban mother who's shocked when her estranged sister, Elizabeth (Natasha Leggero), her sister's outrageously wealthy, big-hearted husband, Javier (Camil), and Javier's fiercely loyal assistant/driver/friend, Luis (Izzy Diaz), land on her doorstep in need of a place to live after the couple's money dries up. Though class differences may separate the women, and the size of the house and the number of people living in it will test the limits of family ties, the familial bond of sisterhood might be the catalyst they need to restore their relationship. Emmy Award winner Alex Herschlag ("Will & Grace," "Modern Family"), Jennie Snyder Urman ("Jane the Virgin"), Joanna Klein, Ben Silverman, Jaime Camil, Guillermo Restrepo, Gonzalo Cilley and Maria Lucia Hernandez are executive producers for CBS Television Studio/Sutton Street Prods./Propagate, with creative partners RCN TV and Resonant TV. Victor Gonzalez directed the pilot from a script by Herschlag.

BROKE stars Jaime Camil as Javier, Pauley Perrette as Jackie, Natasha Leggero as Elizabeth, Izzy Diaz as Luis and Antonio Corbo as Sammy."
What do you think? Are you a fan of Pauley Perrette? Will you watch her new TV show?