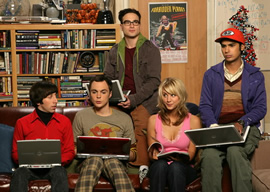 Network: CBS
Episodes: TBD (half-hour)
Seasons: 12
TV show dates: September 24, 2007 — TBD
Series status: Ending
Performers include: Johnny Galecki, Jim Parsons, Kaley Cuoco, Simon Helberg, Kunal Nayyar, and Sara Gilbert.
TV show description:
Leonard Hofstadter (Johnny Galecki) and Sheldon Cooper (Jim Parsons) are best friends, roommates, and brilliant physicists at CalTech. They understand how the universe works but have little interest in the people around them.
That begins to change when an attractive young waitress and wanna-be actress, Penny (Kaley Cuoco), moves into the apartment across the hall. Leonard becomes immediately smitten with the free-spirited girl and tries to forge a relationship with her, much to the confusion and consternation of Sheldon.
The geniuses' equally geeky coworkers are smarmy Howard Wolowitz (Simon Helberg) and Rajesh Koothrappali (Kunal Nayyar), an immigrant from India who finds it difficult to talk to most females.
Is the universe bigger than the scientists previously believed?
Series Finale:
Episode #TBD
This episode has not aired yet.
First aired: TBD
What do you think? Do you like The Big Bang Theory TV show? Do you think it should end or be renewed for a 13th season?